The World is a Stage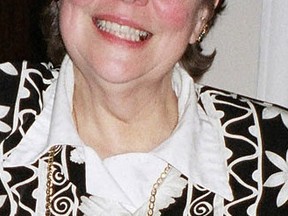 Article content
Much of my research over the last four years has been about the Tillsonburg men and women that served in WWI, especially those who died for us.
This column was going to be about our troops at Christmas in 1917, in the trenches and on the land in France, Italy, Turkey, Africa, the Alps, the desert, the air and the sea. Interesting and different, but perhaps it would be better to think about our present day, so let's talk 'today.'
During the Invictus Games, Prince Harry took our military out of the shadows and into the sunlight. When have the men and women who have served us ever been brought before us? Perhaps in Trenton or Ottawa or near military bases, you may see men in uniform or equipment, but most of Canada sees little of our military except Remembrance Day.
Unlike other governments we don't have parades showing miles of tanks, missiles and weapons that we could use to destroy other countries. The United States is not reticent on putting their heroes into the spotlight, but it wasn't until those Games that I realized we rarely see or hear about the men and women who serve us today.
During the Games we witnessed what war can do to those who serve. Unlike the past when wounded in body, mind and spirit were ignored or hidden away, these men and women were suddenly before us competing, giving their all and so proud to represent their country. No matter their condition, they are our true heroes.
Must we wait to honour them on the Highway of Heroes, when the bodies are returned home? Cannot the government or military and media share more than the politics of war, by doing segments of what our military is doing around the world today? Not generals or admirals but the privates, ordinary seaman and aviators. What dirty job must they do that to keep their caissons rolling along? How many meals have to be cooked to feed a regiment or battalion? How do you get supplies when you are in the middle of nowhere?
What is like for all those, no matter where they are stationed, to not be with their families when a crisis arises; when a child is born; when the roof leaks or a skinned knee needs a healing kiss? Could you deal with being thousands of miles away from your family for months at a time? Or have a spouse or loved one gone so long?
Behind everyone in the services are family that pray for the best of situations, yet must be prepared for the worst and not go crazy waiting to find out what, when, where and why.
Many people cannot be home for Christmas Day. Some will just be late as they had to work. Some are in hospitals, some must travel and celebrate Christmas on a different day. Some are serving us far, far away to help other countries fight for or retain their freedoms, giving up their 'normal' lives, so that we may have the life we expect in Canada. We have 79,000 active personnel in our forces and too many of them will not be home for Christmas.
Do you know where they will be? They could be in Afghanistan, Kabul, Sinai, Egypt, Golan Heights Port-au-Prince, Haiti, the Middle East, Pristina, Kosovo, Jerusalem, Sudan, Sierra Leone, Cyprus, Kuwait and Iraq. With NATO we have airborne heroes helping Iceland, they are in Central and Eastern Europe, they support France and the Sahel region of Africa, train in Niger, and in the Republic of South Sudan.
In Canada they help with supplies for Alert. Sovereignty patrols in the high, eastern and central arctic, Ellesmere Island, domestic surveillance, aid to law enforcement in the north, prevention of avalanches and maritime and aeronautical search and rescue services across Canada. Some of the naval deployment was a bit more difficult to nail down as they keep moving around, but besides patrolling our enormous coastland, they also help clear explosive remnants of war in the Baltic Sea and with Australia in the Solomon Island, operate in the Arabian Sea and work in the Caribbean and Pacific to seize illicit drugs, support enforcement of our NW Atlantic Fishing Zones and global moratorium on high seas driftnet fishing.
When you gather for your Christmas dinner this year, you might like to give a little thank you to God during Grace, not only for your family, the table laden with food, those who provided it, the gifts you received, but also for those in the past and present, retired, or wounded in spirit, mind or body and those serving us today in your prayers.
Then send them a note and say thank you (www.veterans.gc.ca/eng/remembrance/get-involved/postcard-for-peace/write-to-troops).
Merry Christmas! God Bless us all! 
We apologize, but this video has failed to load.
The World is a Stage
Back to video