Swim with Santa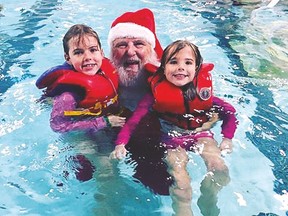 Article content
On Christmas Eve, Santa Claus will be flying around the world delivering presents. On Saturday, he was flying around Oxford County.
Santa and Mrs. Claus (Amanda Wilford from Woodstock) were guests of honour Saturday morning, 9-11 a.m. at the Burgessville Public Library's Breakfast with Santa. Then it was 11-1 in Woodstock, Swim With Santa in Tillsonburg from 2:30-4 p.m., Ingersoll for a private function 5-8 p.m., and back to Tillsonburg for Dinner With Santa, 6-8 p.m.
"It was just awesome," said Santa Claus, aka Ron Archer from Ingersoll when not wearing his red-and-white suit, after swimming in Tillsonburg. "It was so cool, there were so many kids this year. Two years ago we had a lot, but last year there wasn't very many. This year was unreal. A lot of parents, too, it was kind of cool."
Archer has been doing the Santa circuit in Oxford County for the past five years. His 2017 schedule has been full since participating in his first-ever parade on Nov. 18 in Tillsonburg.
"That's about when it started. From the parade on, every weekend's been booked. And every night almost from the 18th right until the 26th. I have seven or eight (appearances) on Christmas Eve, right up until 1 a.m. And then on Christmas Day we go to Sakura House in Woodstock, and Woodstock Hospital's palliative care unit, and usually one of the nursing homes in Ingersoll. We also try to surprise someone from Children's Aid Society of Oxford County - we try to do that every year. And then I have three on Boxing Day this year.
"So a lot more this year. We're over 200 visits this year, last year we had 152 I think. Many of them are free visits for community partners like DASO and Woodstock and Area Community Health Centre."
SWIM WITH SANTA
Santa passed a youth-level Swim to Survive test in December 2015 with flying colours. Returning to the Tillsonburg Community Centre Kinsmen Pool in 2016, and this past Saturday, he didn't need to re-certify his front roll into the pool, treading water for one minute, and swimming 50 metres.
"Today was simply a Swim With Santa special public swim," said Julie Dawley, aquatics supervisor at the Tillsonburg Community Centre and member of the Lifesaving Society.
"He was taking all their lists. Taking last-minute requests."
New this year, Dawley had an artificial Christmas tree set up in the shallow end ready to be decorated by swimmers.
"Most of the tree's underwater. Instead of the ornaments going down, they float up. So we have a tree that's right-side up and decorations that are upside down. So it was fun. The kids who couldn't swim decorated the top of the tree and the kids who could swim did the bottom, so it all worked out.
"We had a good turnout tonight," said Dawley. "I think we had about 120 people."
"The pool was full," nodded Santa, wearing his red swimming trunks, custom-made red-and-white striped shirt and trademark red-and-white hat.
Last year Santa was challenged to try the diving board, which he accepted.
"This year a little girl asked me and I couldn't say no, right?"
He jumped back on the board for a couple of attempts, including his favourite dive which he calls 'straight down.'
"I can do a cannon ball and the straight down. I'm a professional, but I'm a little bit afraid," he admitted, climbing up the short ladder to make his approach for one final dive Saturday.
Diving isn't something he practices at home, he admits.
"No, my water's hard at home," Santa laughs.
Slowing down as he nears the end of the board, he asks the children in the pool, "Are we ready?"
He takes two more tiny steps forward.
"Ready?" he asks again, gaining some up-and-down momentum.
He leaps up, and even with arms stretched out creates minimal splash.
"Where did he go?" one of the children asks.
Seconds later, the red hat surfaces still on Santa's head as he starts treading water.
"That was fun!" he grins. "Santa's not used to swimming." 
We apologize, but this video has failed to load.
Swim with Santa
Back to video