Stubbe's BrandSource Home Furnishings donates 35 turkeys to Helping Hand Food Bank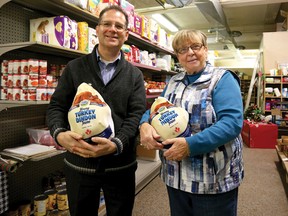 Article content
Stubbe's BrandSource Home Furnishings recently donated 35 turkeys to the Helping Hand Food Bank, just in time for the holiday season.
"It's a partnership promotion that's done with BrandSource and local retailers, which we are - Stubbe's BrandSource Home Furnishings - in association with several bedding/mattress manufacturers," said Gerrard Stubbe.
"Basically, when a person buys certain brands of mattresses between December 1 and December 23, they get a free turkey. And for every turkey we give to a customer that way, we donate one turkey to the food bank."
But Stubbe's does it a little different. They donate their share of turkeys to the Helping Hand Food Bank up front - 35 in total. Customers still get their turkey coupons at the time of purchase, but the early delivery of turkeys gives the food bank more time to distribute them.
"We think it's a great way to help the local community and the local food bank," said Stubbe. "It's kind of the charity of our choice. We thought the Helping Hand Food Bank would be a great way to get the turkeys to those in need."
Turkeys would be picked up by clients on Dec. 20th, said Joan Clarkson, Helping Hand Food Bank coordinator.
"It's as close to Christmas as we can get," said Clarkson. "We've been handing out cards, and they'll bring those in... and then we'll give them turkey. Most of our clients don't have a big freezer, so this is a good time to do it."
"It's a great time of year for this," Stubbe nodded.
"Yes, even if there's some left over after Christmas it's still a great meal for a family," said Clarkson. "And they're nice turkeys."
Stubbe's BandSource partnered with the local Sobeys to purchase the turkeys.
"They are very cooperative with us and they've stored them for us," said Stubbe. "When the customers come into our store (and buy mattresses)... they get a coupon they can redeem at Sobeys." 
We apologize, but this video has failed to load.
Stubbe's BrandSource Home Furnishings donates 35 turkeys to Helping Hand Food Bank
Back to video