Sanders receives Legion of Honour award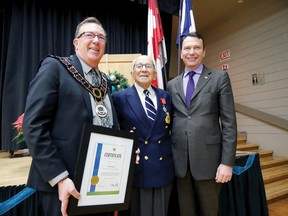 Article content
A First Class Radio Operator in the British Merchant Navy, Harry M. Sanders, now residing in Tillsonburg, was formally recognized last Thursday with the presentation of the Chevalier of the Legion d'Honneur from the Government of France.
Sanders, who accepted the award during the Town of Tillsonburg's Volunteer Appreciation Night at the Tillsonburg Community Centre, said he was coping with two different emotions.
"I've been extremely belittled by the enormity of the recognition, and also remarkably influenced by the earning of the award," said Sanders, who afterwards briefly shared the story of how and why he was recognized by France.
It was on a sandy beach, said Sanders, in Normandy, France.
"The year was 1944. The day was June the 6th. The time was 06:30. The assignment was D-Day, World War II."
Sanders, while accepting the award, mentioned on that one day - the very first day of the Normandy landings - 4,600 service men and service women were killed.
"I then said I'm dedicating with all sincerity my award in memory of every soldier I left behind on the beach that day."
Translated, the Knight of the French National Order of the Legion of Honour is the highest award that can be bestowed to a French person or to a non-French person, said Marc Trouyet, Consul General, from the Consulat General de France in Toronto.
"It has been done for recognizing the commitment of veterans during the Second World War and especially the landings in Normandy and Provence, and the sacrifice they made - them and their fellow comrades," said Trouyet.
"This is something we have been doing for the last three years. We started with the 70th anniversary of D-Day and we wanted to recognize the work the Allies - all of the Allies - have done to free our country. So it is a sign of the deepest recognition for the commitment and the sacrifice."
More than 1,000 of the awards were presented in Canada over the past three years.
In recognition of his award, the Town of Tillsonburg presented Sanders with a framed certificate 'on the occasion of your induction into the National Order of the Legion of Honour (France).' 
We apologize, but this video has failed to load.
Sanders receives Legion of Honour award
Back to video