Knights load up 55 Christmas hampers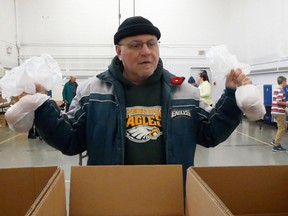 Article content
The idea is to make sure people in the community have food for Christmas.
Spearheaded by the Knights of Columbus, St. Mary's Parish in Tillsonburg, who have been doing Christmas hampers for approximately 30 years, and the Catholic Women's League of St. Mary's, a giving tree is set up at St. Mary's Roman Catholic Church to accept presents, food, and cash donations which are used to purchase food. The presents go to The Salvation Army, and St. Mary's hamper applicants go 'shopping' for toys from Salvation Army's collection.
"It's quite an operation," said Norbert Vanhooren, Knights of Columbus, Council 3212. "It's a coordinated effort. It's mass confusion, but it's coordinated confusion. What you need basically is someone to spearhead it. Andre (DeDecker), he basically knows what goes in each of the boxes. I generally go around, see where they need help, and say 'ok, here's how we're going to do it.' Bang, you get everyone working - they work in teams of two with a trolley - and that's how it goes. We loaded all of these in about an hour."
Volunteers from the Knights, CWL and families gathered at Father Langan Parish to load up the hampers Saturday morning.
"What we're doing is we're taking all of the food that we've gathered up over the last months and putting them into the hampers (boxes)," said Vanhooren. "We've bought some food, a lot of it is donated. We've been taking applications for hampers since the end of October."
About 55 hampers were filled Saturday.
"That's about what we had last year as well," said Vanhooren, noting they had 61 hampers in 2016. "I think The Salvation Army had 200 applications this year."
Hamper food includes canned goods, from soup to vegetables, biscuits, cake mixes, fresh vegetables, and fresh fruit. Each hamper comes with a voucher that can be redeemed at any of the four grocery stores in Tillsonburg for turkey, ham or goose.
"They get that, as well as all this stuff, to make a Christmas dinner so that they can enjoy a full meal. It feels good - real good - to know that everybody's at least going to have one good meal at Christmas."
The Knights of Columbus work in conjunction with The Salvation Army, Tillsonburg, coordinating plans to make sure applicants get similar, equal hampers, without duplication in the community. The Knights take in their own applications, but some names come from The Salvation Army.
"We rate them according to how many is in the family, one person, two, three, up to five-six people. Once the boxes are all loaded up, there's potatoes and bread out there (in the hallway) ready to go. Each hamper gets a 10-pound bag of potatoes, and bread. Once they're all filled, we take them out to the cars and we deliver them. Some people come here to pick them up, but for the most part they get delivered to their door."
Any leftover food is donated to St. Vincent de Paul for friendship dinners hosted every Wednesday night in Tillsonburg.
We apologize, but this video has failed to load.
Knights load up 55 Christmas hampers
Back to video