Zorra hopes province will grant 'special status' to municipality for high-speed rail plan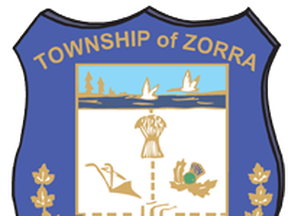 Article content
Zorra Township officials say they believe they are being overlooked when it comes to an environmental assessment on a high-speed rail system that could cut the municipality in half.
"We just want to be part of the process and not ignored like we have been before," said Don MacLeod, CAO of the municipality. "Council has been feeling some angst over the project and neighbouring municipalities as well."
MacLeod said there "a lot of unknowns" over the project prompted their November 8 letter addressed to Premier Kathleen Wynne.
"Council has feeling some angst over the project and neigbouring municipalities as well," he said. "We're asking to be treated fairly and have a chance for input on the project."
The province is engaged in an environmental assessment on the high-speed rail system and Zorra is asking for "special status, similar to those afforded to indigenous groups, and be represented on all aspects of this project."
In the letter they state that a special advisor on the project already consulted with numerous stakeholders and the four main station area communities.
"As of yet, the Township of Zorra has not been approached or even contacted regarding this project," the letter read.
The special report on the system recommended constructing a new two-track corridor from Kitchener to London and adjacent to an existing hydro corridor that runs through Zorra Township.
The Hydro One corridor is currently agricultural land and does not impact the municipal road system.
"The rail corridor will cross every north-south road in the township including 13 local roads and two significant Oxford County roads and split over 50 properties. The corridor will also cross three east-west township roads," the letter reads.
MacLeod said the rail system would impact life for every Zorra residents in terms of movement of machinery, daily commutes and the provision of emergency services.
"No municipality in the entire corridor will see the disruption of travel and everyday life more than the residents of our municipality," the letter states.
The letter makes three requests including a meeting with Minister of Transportation to establish linkages with the MTO and open dialogue.
They are also asking the province to appoint a municipal representative from the township to serve on the planning advisory board, as well as requesting capacity funding to impacted municipalities in the study area of high-speed project.
"Tax payers of local municipalities should not be expected to pay for these costs on a project that is provincially and nationally significant," the letter said.
We apologize, but this video has failed to load.
Zorra hopes province will grant 'special status' to municipality for high-speed rail plan
Back to video