Oxford County police briefs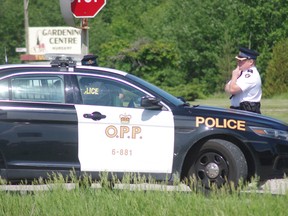 Article content
Deer crashes climbing: police
OPP have issued a warning following 18 recent motor vehicle collisions with deer since November 8.
Of those eighteen deer collisions, eight occurred in Zorra Township, six in Norwich Township, two in Blandford Blenheim Township, and one each in East Zorra-Tavistock Township and South-West Oxford Township.
No people were reported injured in the crashes.
OPP offer motorists the following tips in an effort to minimize the chances of being involved in a collision with deer:
Be especially attentive from sunset to midnight and during the hours shortly before and after sunrise. These are high risk times for deer-vehicle collisions.
Drive with caution when moving through areas known to have a large deer population. Remember if you see one deer, others are likely nearby as they often travel in herds.
When driving at night, use high beam headlights in the absence of oncoming traffic. The high beams will better illuminate the eyes of deer on or near the roadway.
The slower you drive in deer populated areas, the more time you will have to react if one crosses your vehicles path.
Brake firmly when you notice a deer in or near your path, but stay in your lane. Don't veer for deer. Always wear your seat belt.
$35K theft
On November 13, OPP responded a break and enter in Ingersoll at the business property on Thames Street South between St. Andrew Street and Victoria Street, where thieves made off with $35,000 worth of items. It is believed to have occurred between 11 am on Sunday, November 12 and 7:30 a.m. on Monday, November 13.
The items taken included a John Deere riding lawnmower, gas powered washer, Tanen landscape trailer, tool chest, Stihl cut saw, chainsaw, leaf blower, weed trimmer, hedge trimmer, portable diesel welder, welding cable, bottle jacks, hydraulic water pump and volt heaters.
Any person with information should immediately contact the Oxford County OPP at 1-888-310-1122 or their nearest police authority.
We apologize, but this video has failed to load.
Oxford County police briefs
Back to video