Hearts 4 Hooves fundraiser supports horse ranch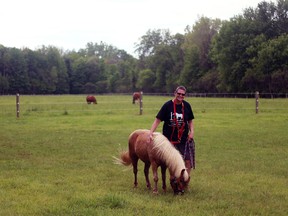 Article content
A large ranch that specializes in horse-guided learning in Straffordville held its second annual fundraiser Saturday.
The Spirit's Whisper Ranch had people come out to experience the wonders of horses during its second Hearts 4 Hooves Wellness Jamboree, offering up some fun activities like archery and other games, live music, food and a horse-driven wagon ride.
All of the proceeds earned at the jamboree go to caring for the horses.
Ranch owner Kristi Rockley said Spirit's Whisper has a herd of 11 healing horses that work with individuals, families, groups and businesses that are looking for something more in their lives.
"The horses are pray animals," Rockley said. "They are able to sense and read us more clearly than we know ourselves. They can sense our heart rate, our blood pressure and our emotional state, so by connecting with them and honouring them and respecting them as teacher and guide to us, they are able to show us how we need to heal, or help us heal. Show us what we need to let go of, or acknowledge, or become aware of, whatever it is in the moment."
Rockley said horses live in the moment and can help people learn to live in the moment as well.
A friend of Rockley's, Joanne Howard, said they met a year ago when she discovered the purpose of the ranch. She said the event has become much larger from the last year.
"I truly believe that (Rockley) does wonderful things; her horses do wonderful things," Howard said. "I've experienced the energy through her horses myself. They're just amazing creatures, (and) it's such a peaceful spot. The therapy that these horses provide is priceless."
Nancy McGuire had never been to the ranch before Saturday but said she thinks it's a terrific service to provide
"Apparently some of the animals are rescue animals, like Moose over there," she said, gesturing to a large horse off in the distance. "In this day and age, people tend to throw animals away and they shouldn't do that. There's something in all of us that should have an animal around."
bchessell@postmedia.com
We apologize, but this video has failed to load.
Hearts 4 Hooves fundraiser supports horse ranch
Back to video