Animal rights protesters target Norwich Township mink farm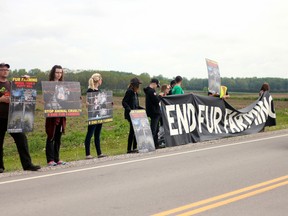 Article content
A Kitchener animal rights group protested at a Norwich mink ranch on Saturday, condemning the industry for its alleged mistreatment of animals.
The Kitchener Ontario Animal Liberation Alliance (KOALA) picketed on the road in front of the Jeff Mitchell Mink Ranch on Norwich Road, as the group prepared to launch its End Fur Farming campaign.
The group stood on the side of the road, some held individual signs that said "Stop Animal Cruelty" while a group of four protesters held a long black banner with the words "End Fur Farming" on it in a large white letters.
Some protesters even climbed into small wire cages to demonstrate the living conditions of animals that are farmed for fur.
One of the organizers of KOALA, Malcolm Klimowicz, stood on the other side of the road with a megaphone chanting the campaign's slogan.
Klimowicz said his group would be protesting 40 farms in Ontario, mostly mink farms and a few fox farms.
"The mink have about two sheets worth of paper to live on," he said. "This causes frustration in these animals. The fur industry will tell you that they are domesticated, but fur farming has only been around for 100 years. They breed the animals not for traits of domestication, but for pelt traits. Stuff that looks nice on a coat."
Klimowicz and his group are fighting to stop fur farming in Ontario. He described how the animals are in a "constant state of distress" when they are in small cages on these farms.
"It's a direct violation of sections 11.1 and 11.2 of the (Ontario Society for the Prevention of Cruelty to Animals) Act, which states that it's a violation of the Criminal Code to put an animal in distress," the protester said. "These animals are constantly in distress. On top of that, the government, who are supposed to regulate it, there have been no inspections of mink farms by the OSPCA, the Ministry of Agriculture or the Ministry of the Environment in the last five years.
"Yet we see video evidence coming out of undercover footage inside these farms showing these animals are being overcrowded, piles of excrement, ammonia fumes causing eye infections. The government is actually funding research for the mink industry and the fox industry, doing bailouts of millions of dollars from the federal and provincial governments. The big problem is the government is supposed to be regulating this, but they're funding it. It's a conflict of interest."
On top of these issues, Klimowicz said KOALA believes it is unnecessary to kill animals for a "stupid clothing decoration," citing a study conducted by the Humane Society of Canada that found that 68 per cent of Canadians support a ban on fur farming.
The Canadian Mink Breeders Association (CMBA) responded to these protests with a release on Saturday, stating the standards of care for raising farmed mink in Canada are set out in a Code of Practice that was prepared by veterinarians, animal scientists, producers and animal-welfare authorities working under the National Farm Animal Care Council.
The release also noted that cage design and sizes, nutrition, veterinary care and other husbandry standards were established to ensure the best possible welfare for farm-raised mink.
In the release, CMBA executive director Gary Hazlewood said mink receive excellent nutrition and care on Canadian farms, adding there is no other way to produce the high quality of fur.
"We understand that some activists now believe that people should not use animals at all, even for food," Hazlewood said, "but most Canadians accept the responsible use of animals, so long as they are treated with respect. Our research confirms that close to 80 per cent of Canadians believe that wearing fur should be a matter of personal choice."
Protesters came from all over Ontario to support KOALA's cause. One protester, Adam Stirr, came from the Niagara Region to stand outside of the Norwich mink ranch to have his voice heard, telling the Sentinel-Review these practices are "especially egregious."
"You're raising an animal just to kill it for its skin," Stirr said. "Its whole life is just the value of its skin and that's disgusting."
He added the protest was just the first stage of a larger-scale plan to enact a ban on fur farming in Ontario.
"This is just the very beginning stages of it," Stirr said. "This is how it has to start. You've got to make people aware of the issue … get people thinking about it. When the next stages kick in, the more people know about it, the more inclined they are to look into it. I guarantee the more people look into this kind of thing, the more people will be disgusted by it."
International Fur Federation regional vice-president Nancy Daigneault told the Sentinel-Review the organization is open to discussion with the protesters and KOALA.
"We have an open dialogue with everybody, (but) they haven't reached out to me personally or to the International Fur Federation or the Canada Mink Breeders that I'm aware of," she said. "There's always an open dialogue. When the Canada Mink Code was put together, veterinary experts put it out for consultation … There is an opportunity for public comment on all of these things. We're always willing to have dialogues with anyone who is willing to talk to us rationally. But these people, I believe, are trying to put us out of business.
"They don't believe in eating meat. They don't believe in wearing leather. They don't believe in any animal use within society," Daigneault added. "That's their viewpoint, and I don't know if we're going to change their minds on that."
bchessell@postmedia.com
We apologize, but this video has failed to load.
Animal rights protesters target Norwich Township mink farm
Back to video