Two Cents Worth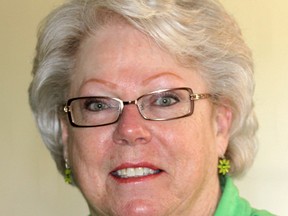 Article content
Went to a funeral last week. As you get older those events happen with much more frequency than they used to but, I think, you have a much better acceptance of the inevitability of it all.
The older the person is the more you get the comment, "They have lived a full life," but it doesn't make it any easier. My friend Mae's mother died at 104 so that logic could apply although she was as feisty as ever right up till the end. Regardless of her advanced years it was still a very difficult time for Mae and all those who cared about her and her mom. Loss is loss at any age.
When it's a child, though, there just isn't any acceptance. Xavier Garrett would have turned eight next week. He had fought hard and long since the day he was born and his mother, father, sister and all family and friends had fought hard alongside him. He was a very brave young boy facing multiple surgeries and treatments his whole life and he did it with grace and dignity. Along the way he gathered many friends and supporters with his smile and outlook.
He lived as full a life as was humanly possible. His parents and family, his extended family and his community made sure he had all the opportunities and experiences any little boy should have and they filled his life with joy. He showed all of them what courage and determination can do and he, in turn, filled their lives with joy.
It was an extraordinary funeral and not one I will likely ever attend again. It is not often one has Darth Vader, in full regalia, lead the procession into the church. Nor do many people have an honour guard made up of Storm Troopers and Jedi. Although all those in the church were wiping tears they were also smiling through the tears knowing Xavier was a huge Star Wars fan and was loving every minute of it.
We say it a lot but this service was really a true celebration of a life. The officiant knew the family, so spoke from his heart with admiration and gratitude for having the opportunity to share in the life of Xavier. Mackenzie, Xavier's twin sister, spoke of her love for her brother and sang his favourite song, Somewhere Over The Rainbow. We all shared in this celebration of life as we watched the big screens showing photos of Xavier and his family beginning with his birth.
It was an emotional service and, to be sure, very sad, but what I noticed most was that it was an encouraging service. It was inspiring. I think everyone left feeling motivated to do more with their own lives, wanting to be brave in the face of hardship. We felt encouraged to find joy in our everyday lives, to love with everything we have, to laugh more often, to live our best lives each and every day.
In his short seven-year life Xavier touched many, many people, inspired us and made our world a much better place by his having been here.
We apologize, but this video has failed to load.
Two Cents Worth
Back to video