Compassionate, dedicated volunteers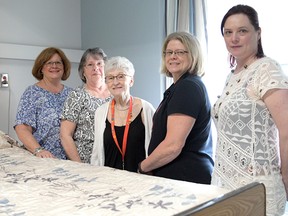 Article content
Currently there are approximately 11 VON Oxford and TDMH Volunteer Association highly trained volunteers who dedicate their time, their energy, their skills, and their compassion to support families and patients at Tillsonburg District Memorial Hospital who are facing a palliative diagnosis or life-limiting illness.
"I just think this team is so vitally important to the hospital and to the community," Ann Marie Wallace-Phillips, coordinator of hospice and bereavement services for VON Oxford. "If your loved one is coming into the hospital with a life-threatening illness, there is support available. Many times, when a family member has a life-limiting illness, families are very stressed. They are overwhelmed. And if we can step in, while the patient is here, we provide comfort."
"Basically our program is for support services for family and patients who are going through a health crisis..." said Elaine Hallett, the longest-serving member of the volunteer palliative care support team at TDMH at 22 years this year.
"Even a listening ear," said Wallace-Phillips. "Sometimes volunteers will just sit for 10-15 minutes with the patient, holding their hand, and that is a wonderful comfort. In addition to that, we also offer sometimes respite care, even if it's just 10-15 minutes so the family member can slip outside, have some fresh air or get a bite to eat, knowing that their loved one is being cared for and looked after in such a loving and compassionate way."
"That's everything in a nutshell," said volunteer Carol Wellhauser.
Although patients may have an end-of-life illness, that is not always the case.
"We have two rooms that sort of fill the gap if they don't end up at Sakura House," Hallett explained, "or choose not to go to Sakura. So the two rooms are dedicated to those transitioning on."
"It's their choice, the family's choice," said volunteer Sharon Hagell.
"We're there for the families and for the patients if they need support," said Hallett. "There are also bereavement people the families can visit and speak to - during the process or after."
"We also do what we call friendly visits... with people who are in the hospital for a lengthy period of time - they're waiting to get into a nursing home, or they are getting through whatever has kept them from being at home, and we're there to..." said Hallett.
"Provide support," said volunteer Catherine Burke.
"I always tell people I'm here to, hopefully, provide a smile and some comfort, even a break in their day," said Hallett.
"Some people who are here have very limited support," Wallace-Phillips noted. "Some may not have any family, or family is a long distance."
"Some of our volunteers also shed tears with the family members," said Hallett.
"Yes, we do," nodded Burke.
"And that's okay, the families actually don't mind that," said Hallett.
"It shows how much we care," said Hagell.
"Our palliative care volunteers have gone through extensive training," said Wallace-Phillips. "So they always have fundamentals of hospice palliative care, and the coordinator - myself or in the future Nancy Clark - also does education/training with them.
"I stress self-care to the volunteers. We talk about self-care in our meetings, and also at our meetings we always debrief, keeping in mind that when we do the debriefing, it's confidential. We maintain the utmost confidentiality within our team. The volunteers are a really tight group, so they support each other."
Typically, one palliative care volunteer is at the hospital in the morning, and another palliative care volunteer in the afternoon.
"There is no prerequisite time we spend with each person, it depends on the individual," said Wellhauser. "Some want you there a long time, some don't want you there at all. So you just really have to be very aware and read the patient well..."
"And respect the patient's wishes," said Burke.
"Many times family members seek out our volunteers if they have questions, or sometimes if they just need somebody to talk to," said Wallace-Phillips. "I think another beauty of this program which is starting to happen more and more... if we know that an individual is near end-of-life, or has passed away in Tillsonburg, we can give the family bereavement support information, that VON offers free of charge. So that way we continue the journey with the individual family members - so they're supported here in the hospital, and then they will be supported after the funeral and ongoing.
"In Tillsonburg, we have the Caring Circle, run by the VON, I think it's the third Wednesday evening of every month, on 24 Brock Street. Additionally we operate two Caring Circles in Woodstock. Also we have one-on-one individual support available. All these programs are run by trained volunteers.
"We also started an initiative, because we realize that children between the ages of 4-11, or any children, are often dismissed in their grieving, which is Kids Circle, a bereavement support group for children. Currently that program is run in Woodstock, but we are going to expand it to Ingersoll in the fall and we are looking at expanding it to Tillsonburg next year (location to be determined)." 
***
Palliative care at TDMH
Have you talked about your end of life wishes?
Many Canadians believe this important, yet only 45 per cent have done so, mostly due to the fear of the unknown.
This year's Canadian Hospice Palliative Care Week campaign, May 7-13, focused on 'Hospice Palliative Care is about living well. Right to the end.' Canadians were urged to conquer their fear of the unknown and their fear of having end of life conversations by doing two things.
First, learn about hospice palliative care and advanced care planning - what are they, what do they mean and who to have these conversations with.
And second, create a bucket list using #Top5whenI'mAlive and sharing your list with family, friends and social media. The principles underlining this year's campaign were simple - start these conversations now so you are able to live your life well, don't wait until end of life to allow your wishes and desires to be known.
VON Oxford and Tillsonburg District Memorial Hospital have an exceptional team of experienced, trained and compassionate hospice palliative care volunteers who can among other things help facilitate these difficult conversations. These volunteers support patients and family members facing life-limiting illnesses within TDMH. Volunteers work closely with patients and families to provide supportive care by listening, understanding, and respectfully assisting their needs when required. They also offer respite care so family members may take a break from the hospital setting, with no worry of leaving their loved one alone.
Earlier this spring, TDMH refreshed their two palliative care rooms, providing additional comforts of home to enhance the care for each patient and their families. Comforts of home in the rooms now include a cupboard that houses a mini fridge, microwave, kettle and Keurig coffee maker, a fresh coat of paint and new soft furnishings such as window treatments and beautiful bedspreads. These touches create a soothing and relaxed environment for both patients and family members.
Personal touches are provided by the palliative care team such as presentation of afghans,
donated by Mission Circle women from the First Baptist Church in Tillsonburg, and beautiful stained glass butterflies as a sign of respect and remembrance. Family members often express gratitude for this simple ritual and take with them a lasting memory of the compassionate support and care received from the Palliative Care Team during their loved one's stay at TDMH.
Additionally, personal toiletries (toothbrushes, toothpaste and floss donated by Dr. Peter Jarycki and Dr. Ed Patenaude) are provided to families.
Everything possible is lovingly offered to provide as much comfort and care as possible for patients and families during their time at TDMH. For Palliative Care volunteers, it is truly an honour to support and walk alongside patients and families during a very difficult time in their lives.
We apologize, but this video has failed to load.
Compassionate, dedicated volunteers
Back to video