Tillsonburg Business is Blooming!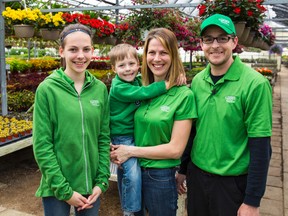 Article content
Business is blooming at Tillsonburg Garden Gate as this is the time of year when their garden and nursery business and products shake off winter and explode into activity. Gardeners can't wait to get outside, prepare their plots and choose from an infinite selection of plants, flowers and shrubbery to brighten up their lives.
Tillsonburg Garden Gate is well positioned, both geographically and demographically, to ride a wave of garden popularity. The family owned and operated business, created in 2011, is located on 167 Simcoe Street near McDonalds and includes two acres under largely plastic greenhouse. Matt Fenn grew up with flowers on his family's farm. His mother was an avid gardener and his brother was a grower for 24 years. Business prospects were immediately apparent. Fenn said gardening has become a popular pursuit in recent years as people found it both a hobby and therapy. "It gives you a sense of accomplishment," he said.
Fenn says gardening appeals to all ages, from Baby Boomers transitioning to a more sedentary lifestyle, to Millennials who are more environmentally friendly and aware of the value of fresh vegetables and herbs. "Tillsonburg gives us good growth potential for our business as three retirement subdivisions are being developed and new residents are looking to spruce up their properties to better enjoy outdoor living", said Fenn.  
Astute marketing is aimed at seasonal celebrations, such as Mother's Day, Valentines, Easter and Christmas. This year's celebration of Canada's 150th anniversary has spurred a big splash of patriotic red and white flowers and plants. "I love retail," Fenn said. "I can use my creative side for different containers and displays."
Tillsonburg Garden Gate focuses on Buy Local. Sixty per cent of its products are grown locally or from southwestern Ontario and the business has two growers on site, each with more than 25 years experience. Employees are carefully groomed to provide friendly, knowledgeable advice.
"Our customer service is strong," Fenn said. "I spend a lot of time in the interview process because they represent the company." "They do a great job," he added. Currently Tillsonburg Garden Gate employ 15 people.
We apologize, but this video has failed to load.
Tillsonburg Business is Blooming!
Back to video