'Unique' antique medal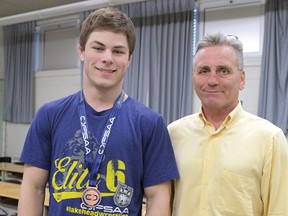 Article content
Glendale wrestler Hunter Tandy calls his OFSAA medal a 'unique' bronze, which is appropriate because of the unique way he won the medal.
"It's called antique bronze," his coach Lloyd Renken corrected.
"Unique, antique... whatever," Tandy laughed. "It looks like bronze - I could just say it's bronze."
"It's kind of a big difference," Renken smiled.
Tandy finished fourth in his 77 kg division at the March 1-3 OFSAA Wrestling Championships in Brampton.
"I almost met my goal," said Tandy. "I was close, really close."
Tandy, who lost his first match by disqualification after dislocating a finger, had eight matches in total.
"It happened literally within the first 20-30 seconds of the match," said Renken. "There wasn't even any action, or very little action. No takedown attempts, nothing. They were both still standing."
Defensively moving his hands in front of his body, he jammed his finger on... something.
"I don't even know," Tandy admitted. "I just looked down and it was pretty bad. It just happened so quick. Our hands were moving, and I just felt it. I thought it was a piece of tape touching my pinky and I looked down..."
An injury timeout was called, but Tandy ran out of time and took the loss. He later squared off against the same wrestler after quarter finals the next day and won the rematch 14-4.
After resetting his finger, Tandy had about 60-90 minutes to begin on the consolation side. Due to OFSAA rules, he would only be eligible for a bronze medal if he continued to win, but would not be able to challenge for gold or silver.
After seeking advice from an on-site doctor (also a wrestling coach), who assured them there would be no long-term damage, Tandy taped a finger to his injured digit and continued to wrestle.
It hurt, he admitted, and limited his actions.
"I had no mobility. Most of the takedowns I did were fireman's carries - you lock onto the back of their arm with my left hand and you pull their right tricep. It was difficult trying to keep it tight. It was painful, that's for sure."
It was his first time wrestling with that type of injury.
"I've never even had that type of injury before," he laughed.
Tandy proceeded to win each of his matches by 10 points (mercy win) or pin.
"I said to him, 'You've got to wrestle with your head now,'" said Renken. "'Not so much with your body, like you did before.' He was worried about jamming it. And clearly, in the first couple of matches it wasn't the same kind of strategy."
"Pretty much everything changed," said Tandy. "I like to move people, grab them and move them around if I set up a takedown. I like to do a lot of throws. Even just shooting in on a single leg, having to lock my hands together, I couldn't close my left hand onto my right hand. I had to change every grip. It got to the point where I was just leaving my hand up, not even trying to wrestle with it."
He continued to mow down opponents - three on the Thursday, and three more Friday. Although there was some swelling Thursday night, he didn't consider withdrawing.
"I iced it and everything, but the pain was even worse."
Talking with his mother, he was reminded of his grandfather who recently passed away.
"She said, 'Just remember, you're poppa's watching you.' I took that the next day... I don't want to drop out. That was not an option.
He continued to win until he reached the Bronze Medal match against Colin White (Orillia).
"It was really close. The score was 4-2 for my opponent, and there were no takedowns scored. He got two points on me for pushing me out, a point because I was burying the head (passivity), and I got put on the shot clock and I didn't score in the time frame so he got another point. I got one point for pushing him out - actually I tried to throw him out, it was so close. If I did, I probably would have won the match."
"It was so close," Renken nodded.
Tandy also received a point for a passivity call against White.
The match consisted of two two-minute rounds, and Tandy didn't hold back in the second round.
"I kept hearing my coach in the background, '30 seconds, 20 seconds, you've got 15 seconds,' and I was trying to move him, setting him up, and I couldn't get out of this tie-up. I reached back with my bad hand and peeled his hands off, and I started shooting, but I couldn't get in on him."
It was bitter-sweet for Hunter on the podium.
He got his (antique) bronze, and he was proud that he hadn't quit, but he would rather have wrestled for gold. Simon Chaves (Guelph) went on to shut out Dante Deluca (Holy Names Windsor) 10-0 to win the 77-kg division.
"I couldn't believe I had the success I did in the next six matches... And losing the (bronze medal match) without a takedown, it didn't feel too bad. We felt so even on the mat."
Without injury, Tandy figures he might have given Deluca a good run for the opportunity to wrestle Chaves.
"It was a good experience," said Tandy, recalling the Top 6 introductions with music, spotlights and fog machines. "It was really cool."
Glendale teammate Ben Harvey, wrestling in the 72 kg division, was eliminated after three matches (1-2) at OFSAA.
We apologize, but this video has failed to load.
'Unique' antique medal
Back to video