The Sweaburg maple syrup producer is building a new production facility this summer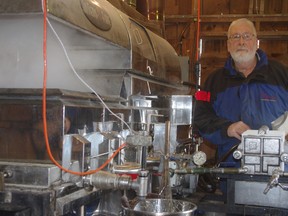 Article content
Employees of Jakeman's Maple Products in Sweaburg spent Thursday cleaning up after a wind storm swept away some of their maple syrup collecting inventory.
"There were buckets strewn across the fields and limbs that came down," explained owner Bob Jakeman.
Across the road at Jakeman's brother Bruce's home, a tree came down directly onto his sugarhouse.
Jakeman Maple Products has about 500 buckets tapping maple trees on their property on Trillium Line.
Maple syrup production started early this year with trees being tapped mid-February — some producers near London were boiling off syrup as early as January — which has had some producers concerned it may result in a disappointing season.
But Jakeman said he's not worried about a maple syrup drought.
"They said that last year but it turned out to be the best production year ever," he said. "It was like two seasons on top of each other. The industry is saying that last year was 30 per cent higher (in yields) than the best year ever before."
A predicted freeze next week should help the sap run again, he said.
"What's going to happen … is it will rejuvenate and reenergize the trees," he said.
Jakeman said their Sweaburg maple syrup production, which won the title of best maple syrup in Canada in 2004, is poised for big growth since his sons Chad and Devon joined the business two years ago.
Additional syrup for their multiple products is purchased from local farmers.
"We reprocess all the maple syrup we get from farmers, filter it and give it the taste and sparkle that a lot of farmers can't give it due to a lack of processing equipment," he said. "We've developed our own techniques."
The company, with products are sold all over the world including Ireland, Australia, Walt Disney World and Sea World, is currently breaking into the supermarket industry with displays in Your Independent Grocer in Ingersoll and local Farm Boy groceries.
"We're a rapidly growing company," he said. "We're poised for growth."
After examining several options this summer they are building a 10,000 square-foot (929 square metre) plant at the Sweaburg location.
"We feel because we've doubled our sales in the last year, if we had the right equipment, we could double our sales again," he said.
Despite their modern evolution, Jakeman's isn't planning to give up popular traditions of the past.
Famous pancakes breakfasts on the weekends are still being provided as a fundraiser for eight Oxford County 4-H clubs on Saturday and Sundays until April 4.
"It's a great education experience for them," he said.
We apologize, but this video has failed to load.
The Sweaburg maple syrup producer is building a new production facility this summer
Back to video