Oxford County looking into new ways to elect warden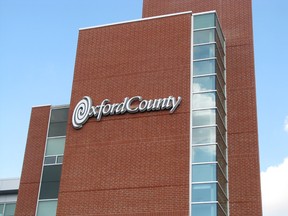 Article content
How Oxford County chooses its warden could change.
Oxford County council is exploring its options for the selection of warden beginning with the start of the 2019-2022 term.
The county is considering changing how it appoints its warden from having an election within among councilors to having an election at large where the community elects the warden.
In addition to that, Counc. Stephen Molnar proposed that council consider also reducing the length of time the warden's term from four years to two or possible one.
CAO Peter Crockett said that the option to elect a warden at large was introduced in Provincial Bill 70, which is now law.
"It indicates that all of the regions within the province have to have elected at large chairs, with the exception of the County of Oxford," he said. "That remains an option, should council choose to do that they could initiate the process with the province to do the regulatory change to introduce an election at large for the warden."
Crockett said that if the county were to elect its warden at large it would bump the number of people in council from 10 to 11.
Oxford County warden David Mayberry said that he was open to the idea of having a warden be elected at large.
"It's up to council to decide how they want to choose the head of council," he said. "I think the system we use works fairly well… If the people felt that they wanted to have another member of county council I would be open to it. I do think that it might create an unbalance between rural and urban, because right now it's five (urban councilors) and five (rural councilors) and I think that's kind of forced balance upon us."
As for his opinion on reducing the warden's term, he said it depends on what you want from the role of warden.
"If you're looking for just a figure head, a one or two year term is fine," he said. "If you're looking for somebody who is going to be building relationships with the province with other levels of government and other municipalities, I think the four year term actually works better."
The county will be passing its report along to lower tier municipalities and past wardens for comment.
We apologize, but this video has failed to load.
Oxford County looking into new ways to elect warden
Back to video