County shows off new environmentally friendly additions to its fleet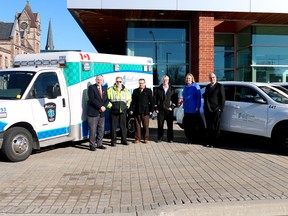 Article content
 Oxford County unveiled its new environmentally friendly additions to its fleet of vehicles on Wednesday.
The county showcased the three new public works vehicles that use compressed natural gas (CNG) and one of its anti-idling ambulances. In addition to these, the county has also announced that later this year Oxford will become the first municipality to have a dedicated CNG snow plow and that it is taking steps to purchase a fully electric Chevrolet Bolt this year as well.
This new technology will help Oxford County achieve a projected 6.2 per cent reduction in CO2 emissions in 2017.
CAO Peter Crockett said that this has been in the works since 2015, when the county announced its commitment to being 100 per cent renewable.
"We've got a number of conversions planned for 2017," Crockett said. "We're also beginning to replace vehicles, where we can, with CNG vehicles right from the start."
Crockett said that this conversion cost the county around $7,000 per vehicle.
"While there's an incremental increase in the capital cost, the operating costs are much more effective as well," he said. "We're basically breaking even. They cost a little more on the front end, but the ongoing fueling cost is reduced and on top of that we're reducing our carbon emissions."
Chief of paramedic services Ben Addley explained the new anti-idling feature that the is being used in two county ambulances.
"It's a start-stop solution," he said. "It allows our vehicles to still operate and maintain the electricity and power that's required to run our lights and all of our equipment that's in the back for patient care, as well as keep it at a temperature that's appropriate for patient comfort, but not sit at the side of the road and idle non-stop."
Addley said that the system monitors temperature and the battery power of the vehicle, and if it is required it will start the vehicle to bring those into the proper parameters and stop the vehicle when that's been reached.
"Pretty much every call that we respond to the vehicle needs to remain running so that we can maintain those," Addley said. "We've implanted it into two of our vehicles at this point as kind of a test to see exactly what kind of impacts we will get from it. We've already realized that we've saved several hundred litres of fuel, in regards to the idling not being as frequent."
We apologize, but this video has failed to load.
County shows off new environmentally friendly additions to its fleet
Back to video