Two Facebook groups for local mothers band together to supply twelve families in need with presents, food and practical supplies this Christmas season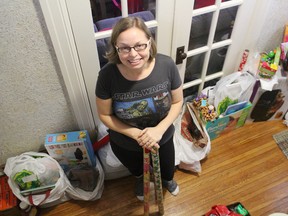 Article content
Hundreds of local moms are banding together to spread some Christmas cheer in their online community.
Two local Facebook groups where moms share support, advice, and community recommendations are working to make this holiday season a little brighter for a dozen families.
"We are trying to spread some Christmas cheer to those that could really use it. Christmas should be something that is happy and brings people together. For some, it just causes stress and worry," said Sarah Allen, who leads the Moms of Oxford Coffee Talk Facebook group and organizes the effort to give back.
She started the tradition with her group last year, and this year she reached out to Woodstock Mommies, a long-running local Facebook group with more than 1,000 members.
"We are both made up of local moms who come to chat about our kids, our lives, what's for dinner, what's going on in the community. It's a great way to stay connected and make some new mom friends," Allen said.
Cricket Scott, one of the leaders of the Woodstock Mommies, said she jumped at the opportunity to participate in the Christmas Cheer project.
"I was thinking 'what can my group do?' and I didn't want to copy her idea either," Scott said with a chuckle. "I thought we might as well band together and use our forces to gather and give."
It's an ultra-local way to make a holiday donation, and Oxford moms have really come through.
They've donated presents for under the tree, food for a Christmas dinner and jammies to clothe the little ones.
Others have offered the gift of time. In just a few days, a group will gather to sort and wrap before the special deliveries.
"Not everyone can assist financially. So we want all of our members to feel they can help in some way," Allen said.
There are 12 families plus three individuals going through tough times that will receive some Christmas Cheer. They were nominated by friends, or in some cases, self-referred, and all are part of the Facebook community for local moms.
"We're trying to help our group members," Scott said. "And it doesn't have to be financial need."
Stuffed animals and boxes of rice and wrapping paper are carefully lined up in Scott's front hall.
A bottle of Heinz Ketchup peeks out the top of one bag.
Organizers made sure to note the interests and sizes of their Christmas Cheer families to make sure offerings will be used and useful. One little guy reported that ketchup was his favourite food.
"It's all about helping each other," Scott said.
"That's one of the reasons our founder, Nicole, created the (Facebook) group, she wanted moms to help each other and connect with each other. So we continue to do that in lots of different ways."
If only every kid had a mom like these ones.
"I love the idea that we can help each other out. I'm a mom of four kids and I've been trying to teach them that this world would be a better place with a bit more love for our fellow human beings," Allen said.
"This is an opportunity to show some acts of kindness to others."
SPREAD SOME CHRISTMAS CHEER
The Christmas Cheer project is also collecting pantry staples to help fill the cupboards of the families they're serving this season. Pasta, peanut butter, school lunch staples and grocery gift cards would be gratefully accepted.
Contact Sarah Allen at sarah1981@hotmail.ca.
We apologize, but this video has failed to load.
Two Facebook groups for local mothers band together to supply twelve families in need with presents, food and practical supplies this Christmas season
Back to video