Langton Lions carry on the Christmas parade tradition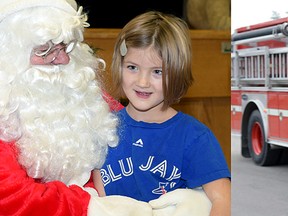 Article content
It's a magical time of the year for the Spriet family in Langton.
Saturday's 45-minute Christmas parade through the streets of Langton was followed by a visit from Santa Claus at the Langton Community Centre, and the Spriets - 8-year-old Ethan, 6-year-old Chelsie, and 4-year-old Holly - each had one-on-one time with the Santa.
"It's such a treat - they're so happy for it," said their dad, Allan Spriet. "They've been chirping like birds the moment they woke up this morning. This is just so much fun for them."
Ethan asked Santa for a Nerf machine gun and fun Lego set. Chelsie also asked for a Lego set, while Holly, the youngest, asked Santa for a Barbie set.
"Not a Barbie?" Allan quizzed. "Not a Barbie car?"
"No," Holly smiled. "A Barbie SET," with much emphasis on 'set.'
The sets, she explained, include "some Barbies" and "some Barbie cars" and a "Barbie city."
Allan nodded wisely, "A Barbie city..."
And so it went for each family visiting Santa. Each child also received a goodie bag provided by the Langton Lions Club, who have been organizing the parade for the past 25-30 years.
"I think it was one of our better parades," said Langton Lions president Albert Dewaele. "We seem to get more entries all the time. We had some extras this year."
And the weather was perfect, he said.
"It was a gorgeous day for it. It's always nice to have a little bit of snow for the Santa Claus parade. An excellent turnout, I think."
Dewaele said other organizations also benefit from the parade, selling baked goods and raffle tickets at the community centre.
Like the town's annual Easter Egg Hunt, which had its 25th anniversary in 2014, the Christmas parade has a long tradition in Langton.
"We've done this for 25-30 years," said Dewaele. "It's kind of a third-generation thing - kids from the first parades bring their kids now.
"All the Lions Club does is spearhead it... and all the other organizations do their own thing. It's very easy to organize. We also get good cooperation from the County and police." 
We apologize, but this video has failed to load.
Langton Lions carry on the Christmas parade tradition
Back to video