View the documentary Over 18 in Tillsonburg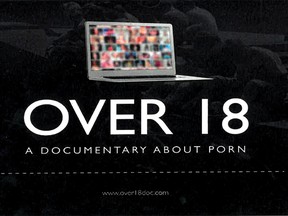 Article content
On Tuesday, Dec. 6, at 7 p.m., Tillsonburg will be hosting a public screening of Over 18, a documentary about pornography produced by Canadian charity, Hope for the Sold.
The documentary tackles an issue that many people wold rather ignore - the effects of pornography on children and youth.
Over 18 will be shown at Westfield Public School, 102 Dereham Drive, at 7 p.m. Doors open at 6:30 p.m. Cost is $5. It is recommended for parents, guardians, youth workers, and youth (16+). Call 519-688-2266 or email info@yfctillsonburg.com for more information.
"A group of concerned citizens is putting this together," said Tillsonburg's Rayburn Lansdell. "We wanted a venue that was neutral, community-friendly.
Viewing the documentary is the first step toward raising awareness.
"Hopefully, the question will be asked by a lot of people that night, basically, 'what do I do?' The people who did the documentary will be there, and there is time for a Q&A.
"We've got to be more vigilant. When I was raising my kids, we knew we had to be careful because what's out there is not 'user friendly' in terms of the values and characters, and qualities and virtues that we wanted to instill into our kids. Now I've got grandchildren, I'm thinking my kids have to be even that much more on top of their game. Today, you don't have to go look for porn. Porn finds you."
The object, he said, is to alert parents and they hope to have a crowd of 100 or more people view the documentary at Westfield.
"We want to gather an audience of parents, grandparents, whoever the caregivers are," said Lansdell.
"The main focus is for parents and caregivers," said Sharon Carson, mother of four, who watched the Over 18 documentary at an earlier screening. "But it would be worth watching for any teenagers, too, or youth workers."
"The recommendation is 16-or-over," Lansdell noted. "The documentary is pretty straightforward. It's not graphic... it's not showing us porn, but it's certainly raising awareness of what's out there."
"It's descriptive," Carson nodded.
"I think it would benefit teachers," Carson added, "because it would give them insight into the behaviour that's going on in the classroom, and violence towards females, and expectations."
OVER 18
The documentary follows the true story of a boy who became addicted to pornography at the age of nine while playing on his computer in his family's living room. The film has several interviews with experts from around the world, as well as people who are still active in the porn industry today.
In a recent interview with CBC, Jared Brock, founder of Hope for the Sold, and the film's director said, "Ninety per cent of boys under the age of 18 have looked at porn and 60 per cent of girls... The stuff that they're accessing isn't the Playboy that the previous generation saw - breasts in a magazine. It's body-punishing sex."
Hope for the Sold cites statistics that are staggering - nine out of 10 boys view pornography, with the average age of exposure being just 12 years old. And it's not just a male issue - 60 per cent of girls have seen porn by 18, and 57 per cent of girls and 83 per cent of boys have seen group sex online.
Jared and his wife, Michelle, are taking their film on tour across Canada, doing in-person screenings from Montreal to Victoria in order to raise awareness.
To find out more about the documentary and the work of Hope for the Sold, visit over18doc.com. 
We apologize, but this video has failed to load.
View the documentary Over 18 in Tillsonburg
Back to video