Two Cents Worth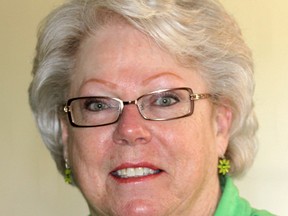 Article content
A huge thanks to all those brave souls who came to the Welcome Back to Otterville studio tour this past cold, wet weekend.
We had more people visit on that rainy Saturday morning than we have had in a long time. It was great. All of you made our tour very successful and we are grateful.
Many were out hoping to get started with their shopping. After all, Christmas is only one month away. We all know how fast time flies when you are having fun - or getting ready for the holiday season. Before you know it we will all be wondering where the time went.
But worry not. This weekend is another great time to get into the spirit and get things rolling on your planning and preparations. The Tillsonburg Senior Centre quilt/craft group has been working hard to provide lots of great gift ideas for stockings stuffers and under the tree. The sale begins at 9 a.m. and runs until 3 p.m. on Saturday, November 26, at the Senior Centre. I know these ladies and have bought many handmade items from them over the years from quilts to mittens. They do quality work because they love what they do and are proud of each piece they create. The prices will suit all shoppers. They are featuring a yard sale this year.
The Down Home Christmas Craft Show is also being held this weekend, Saturday and Sunday at Glendale High School, hosted by The Station Art Centre in Tillsonburg. Doors open at 10 a.m. You will find great gift ideas, sweets and festive home decor, all handmade by the 56 juried artists and artisans. There will be something for everyone - men, women and children - with prices for every budget. Admission is $5.
Also, to get you into the Christmas spirit, the Tillsonburg Kinette Club and the Station Arts Centre of Tillsonburg are hosting the annual Holiday Tour of Homes on Saturday from 10 a.m. until 4 p.m. Advance tickets are $10, day of event tickets are $12. Call the Station Arts Centre for tickets and map so you don't miss anyone. The tour focuses on themed-decorated homes to the taste of the owners, but also features the architecture and style of the houses. You will be in awe of the wonders created by those involved as you visit each family home.
I think we can make a full and exciting weekend of it. On Saturday at 9 a.m. we can start with the Tillsonburg Senior Centre craft and garage sale. Then maybe visit a couple of the fabulously decorated homes, grab a bite for lunch before finishing the day with the rest of the homes on the tour. We will need lots of time to see everything at the Down Home Christmas Craft Show so save it for Sunday after church. I am sure we will be on our way with shopping and be in the spirit of the season. You will also be amazed and inspired.
We apologize, but this video has failed to load.
Two Cents Worth
Back to video