Thank you for remembering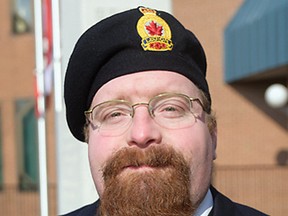 Article content
On November 11, 1918 an armistice was signed. It signified the end of World War I. Many came home and many did not.
Within a few short years communities established monuments and ceremonies to honour the dead and those who had served. All across Canada, communities built Legions and erected cenotaphs for the purpose of Remembrance. Tillsonburg was just one of those communities.
On November 11, 2016 our community gathered at our cenotaph to Remember. A record number of people took part in the silent walk prior to the cenotaph service. We had Veterans from many areas of the service with different experiences represent their comrades. With message and music we honoured the memory of all men and women serve and who have served this country and their communities.
The crowd was astounding. Whether you were from a senior centre or a daycare, or anywhere in between, you had the opportunity to see how our town celebrates Remembrance. I use the word celebrate because even though the tone is solemn and reserved, we show pride in the history of our veterans, the tradition and legacy of that day.
Canadians celebrate Remembrance Day differently than other countries. Canada was shaped greatly by the First World War and has been a distinct force, symbolically and in duty, through other conflicts and all around the world.
What an experience it must be to be a veteran and see the hundreds of people wearing a poppy. I had the honour of escorting Kay Tully to her seat during the service. Kay is a veteran of the Second World War. As we walked, she lightly scolded me for getting people to clap. But I did that because my recollections of Remembrance Day was always clapping for the Veterans as they marched as part of the colour party or arrived as honoured guests. I think is it doubly important that we clap so that those in the crowd who have served hear our appreciation and admiration. Let us not forget the number of veterans who are quiet about their service. As many of the Veterans who I have had the privilege of knowing have stated, it isn't about recognizing their individual efforts but as a whole and a tradition of service. This is why we clap.
Thank you to our Poppy Campaign Chair Don Burton and his team who, like always, coordinate a successful Poppy Campaign and cenotaph service. Thank you to Pastor Paul Robinson and the Oxford Reformed Christian School for their contribution to the service. Thank you to the community and service clubs who laid wreaths. Thank you to Major Terry Wong and Frank Moore who spoke from the heart at the Remembrance Day Banquet that evening. Their presentation about history through artifacts and remembrance was superb. Thank you to the Legion Branch 153 Ladies Auxiliary President Betty Davies and her team for an outstanding meal. Your hard work does not go unappreciated. Thank you to the Varnavair Air Cadets for helping at the banquet as well as marching in the Santa Claus Parade. Thank you to the many others who took part in continuing the tradition of Remembrance.
The following is taken directly from the Royal Canadian Legion web page, found at www.legion.ca. It highlights our year round mandate of Remembrance. "Legion members care deeply about supporting the men and women who serve this country and want to make a difference in the lives of Veterans, contribute to our communities, and Remember those who made the ultimate sacrifice for our Country".
With that, 'lest we forget.' 
We apologize, but this video has failed to load.
Thank you for remembering
Back to video