Public consultation helps gauge residents on county services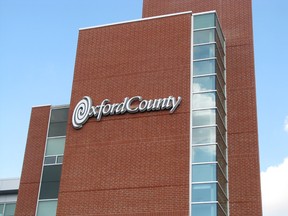 Article content
Over 40 per cent of Oxford County residents say they receive good or excellent value for their tax dollars.
This news came out during the county's second special budget meeting on Wednesday.
According to information taken from a public survey, 41.7 per cent think they receive fair value for their tax dollars, while 40.7 per cent think they receive good to excellent value and 17.7 per cent think they receive poor or very poor value.
CAO Peter Crockett said they were not sure whether these numbers mean that people think the service levels are not where they need to be.
"We've got a lot of information in the survey… that says they would like to see programs enhanced and some programs reduced," Crockett said. "We're not yet sure, and part of the ongoing evolution of the survey, is to try and get a better handle on what might be driving those desires for either enhanced or less service levels and how much that might impact the satisfaction or value."
The survey found that a majority of residents felt that each of the services should be maintained at their current levels, however, as Crockett mentioned some service areas were noted as either needing to be enhanced or reduced.
Residents found waste management, public health and long-term care services needed enhancement, while general government and library services needed a reduction. Residents were split on human services; 35.10 per cent were in favour of reductions, while 25.80 per cent were in favour of enhancements.
"Right now we're taking this in as information," Crockett said. "It will help inform what we might want to look at in the 2018 process. As we're in the last stages of our budget process, dramatic changes in service level are less likely to happen as opposed to going into budget process with thoughts around some of the service levels, not that council couldn't do that though."
This is the first time the county has held a public survey to help with its budget process, and Crockett said the survey is about informing and beginning the engagement process for the future, as well as some feedback and initial impressions on the current budget process.
Crockett did also recognize that the survey did not totally represent all of the county. Out of 98 people who responded to the survey (as of Nov. 15) 46.9 per cent were from Woodstock, while other municipalities were represented by less than 10 per cent each.
"From an overall standpoint it's hard to guess why it turned out that way," Crockett said. "Woodstock is over-represented from a population perspective, they're 35 per cent of the population but they were 46 per cent of the respondents. Perhaps it's because the media has a more intense availability in Woodstock, so they're might have been a higher degree of awareness. Other than that I'm not really sure.
"It is what it is," he added. "But at the same time, we're not suggesting that the information is representative of the community as a whole, but rather as an indication of what the community thinks."
The survey is still open, and Crockett said it will remain open until the middle of December.
This budget season the county is also facing a 4.59 per cent levy increase. For comparison, the county increased its levy in 2016 by 1.9 per cent.
It was originally projected that homes valued at $250,000 would see a $28 increase in their taxes, but Crockett said this information was presented before the county had its final assessment roles, which are still in transition.
"We're really cautious about what that number means because we don't know the final assessment distribution," Crockett said. "Even with that final distribution, one of the other ongoing issues will be – depending on the change – how many appeals happen and what the final assessment roles look like."
Crockett said they think the impact to taxpayers will be within that order of magnitude of $28, but added that there are significant unknowns related to it.
County council will meet on Nov. 30 for its third and final special budget meeting.
We apologize, but this video has failed to load.
Public consultation helps gauge residents on county services
Back to video