Pioneer of Canadian Passive House Standard speaking in Woodstock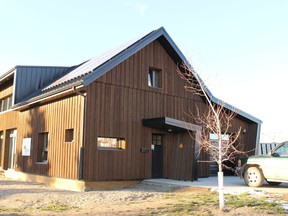 Article content
A pioneer in economic energy use for new and existing buildings will be speaking in Woodstock.
Malcolm Isaacs, the pioneer, engineer, researcher, writer and builder of the Canadian Passive House will be speaking at the Oxford County administration building on Nov. 29 in the council chamber.
Isaacs will speak about the Passive House Standard, the world's most advanced energy efficiency standards that can help new and existing buildings to achieve energy performance savings of 80 to 90 per cent.
Manager of housing development Jamie Stephens said they invited both Isaacs to help raise awareness around the Passive House Standard.
"(Isaac's) is the co-founder of the Canadian Passive House Institute," Stephens said. "It's a performance standard that originated in Germany about 25 years ago, so he's very experienced. He's an accomplished educator across the country."
Isaacs has also trained over 500 building professionals, and Stephens said they are delighted that he will be coming to speak to residents of Oxford County.
Jay Heaman, manager of strategic initiatives, said he hopes this engagement will inspire people to look beyond our own Ontario building code.
"In Germany and Ireland and a lot of other countries now… the standard of Passive House is really a modeled home that improves the energy efficiency to the point where it requires 80 to 90 per cent less energy than what our Ontario building code would," Heaman said. "The buildings that we're putting up right now don't even come close to the energy efficiency and the quality of air in the buildings."
In some areas of Germany and Ireland, Heaman said the Passive House Standard has become the minimum code.
In addition to having Isaacs speak on Tuesday, architect Anthony Leaning, who designed and built a building to the Passive House Standard in Ottawa will also be speaking.
Leaning designed a 42-unit mental health building in downtown Ottawa that was built to the Passive House Standard, and Heaman said the energy requirement is, "dollars instead of thousands of dollars."
Oxford County is also looking at the Passive House Standard when it comes to building in the community.
Stephens said that with the county's last proposal calls to expend some federal and provincial program funding, they weighted the scoring so those responding would include the Passive House Standard in their building designs.
"That was deemed a success for us and the proponents," Stephens said. "Basically we're raising the bar as far as what we would like to see as far as energy performance in new affordable housing projects and other county-led initiatives."
Isaacs and Leaning will speak at the Oxford County administration building on Nov. 29 at 7 p.m. The event is open and free to the public.
Both speakers will also be keynote speakers at the 2016 National Housing Day Forum being held the next day (Nov. 30).
We apologize, but this video has failed to load.
Pioneer of Canadian Passive House Standard speaking in Woodstock
Back to video