Local auction legends meet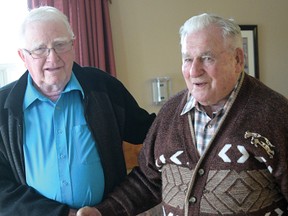 Article content
Springfield's Les Shackelton and Brantford's Sandy Shantz spent a lifetime as auctioneers in southern Ontario, but until recently, the two 'friendly rivals' had never officially met.
That day came on Wednesday, Nov. 16, at Park Lane Terrace, a retirement home in Paris, Ont., where Shantz now lives. The two 91-year-olds sat down to share auction stories.
Shackelton recalled how he got started in 1954 when he clerking at a pig sale. He told the auctioneer, 'If you don't hurry in there and sell these pigs, I'm going to sell them.' The auctioneer suggested that was a good idea, that he would sell the first half, Shackelton the second.
"I said, 'Like hell I am,'" Shackelton laughed. "When he got the pigs half sold, he stepped out of the box and told everybody 'Les is going to sell the rest of the pigs, I'm going to sit here and smoke my cigarette.' And I done it."
Two weeks later Shackelton was offered another auction after that same auctioneer had a heart attack.
"I said I'd give it a try... I sold the pigs."
That led to jobs in Talbotville, clerking and selling pigs and calves, and others in Aylmer and north of London.
"I heard two guys standing along side the gate say, 'I don't know who this guy is, but he sure knows how to sell calves.'"
It grew from there and Shackelton sought out area auctioneers to learn more about the business. Shantz was on his list.
"I knew his name was in the paper, that's how I knew about him. I thought he (Shantz) was one of the best. He did a good job, he was good talking to people while he was selling. One of the best, I figured. At that time he was one of the fellows who did a lot of sales."
Shackelton asked an auction school about home study courses and was offered a book.
"After that, when I was driving down the road I would auction. I'd change the bid every hydro pole I drove by. If I was at $61, it would be '61, 61, 61,' then go '62, 62, 63. Oh sold!' I learned to pace myself.
"That was my start. Then I went to five auctioneers and asked if they would help me. None of them would. Not one of them."
In 1958, Shackelton attended an auction school in the US, getting 10-12 days intensive training with 58 auctioneers and 12 instructors. He was voted No. 2 in his class.
"By that time I was selling three-quarters of what those five auctioneers were selling. And I never went and asked for a sale in my life. That was how I started.
"And Sandy, he started out doing the same thing I did, providing a service that was needed in the country. Didn't you?" Shackelton asked Shantz.
"Yep," Shantz nodded.
"Are you in a nursing home now?" Shantz asked.
"No!" said Shackelton. "I was in Aylmer curling Monday morning, won 5-3, but I use a stick. I sit down between rocks. If I stand for 10 minutes, I've got to move a few steps or I can't stand there no longer, my legs hurt.
"How old are you," Shackelton asked.
"91," Shantz replied.
"We're the same age," Shackleton smiled. "When's your birthday?"
"August 30th," said Shantz.
"Well, I'm older than you then. I'm 92 in February."
Shantz said he got his start in auctioneering after attending a sale in Ancaster.
"I figured he (Smith) was the greatest auctioneer there ever was," said Shantz. "When I came home I grabbed a cane, went out to the barn, and I started selling the cows. My dad got so damn mad he hid the cane on me."
Successful auctioneers, said Shackelton, are people who know what their "stuff" is worth, and get fair prices.
"Because if he doesn't, he sells when he shouldn't, or should be selling when..."
"He's right," Shantz nodded.
"We don't hang on," said John Douglas, who started working with Shantz in 1980, and took over the business in 1985. "The buyers know the auctioneers, know whether he's going to waste time or sell it. Us three, we don't hang on. If they're not bidding, they're burning daylight. Get what it's worth and move on to the next."
"On top of that, you have to have a little humour, otherwise it gets awful damn dead," said Shackelton.
"You've got to keep the crowd occupied," nodded Shantz.
"A little treat once in a while, something to keep the people with you," said Shackelton. "Something stupid that anybody else would think you are nuts, but you are not."
Although their territories occasionally overlapped over the years, Shantz said he generally avoided Shackelton.
"If somebody had me to go to a sale and they talked about Les, I just threw my hands up and got the hell out," said Shantz. "Because if they were talking about you (Shackelton), I figured that was your territory, they better have you."
"You come over and sold a sale right where I had sold two sales before, once," Shackelton was quick to note.
"Is that right?" said Shantz.
"I had sold two sales, then he decided to get Shantz. It was Douglas. I never even went to watch them, I was mad enough... And I'll tell you something else, after you had the sale, he bought another place and I went and sold all the equipment on that farm for him.
"I sold four sales from him, you only got one, I was a lot better than you," Shackelton joked.
Together, they have nearly 130 years of auction experience. Shantz eventually went into semi-retirement, doing his last sale about four years ago, passing the torch to his friend John Douglas, who continued to run Shantz Auctions until recent years. Shackelton passed his business on to his son and grandchildren, coming out of retirement to do a sale on his 91st birthday.
"I'll bet this man is like me," said Shackelton, nodding to Shantz. "He never had a man say, 'By God, if I ever have another sale you ain't gonna do it.' Did you? You never had anybody tell you that?"
"Nope."
"Damn right," said Shackelton. "You done your job."
Shackelton remembers one of his most unusual sales, a small antique sign from the McColl-Frontenac Oil Company (rebranded Texaco after selling to a Texas company in 1941, later acquired by Imperial Oil), known for its 'Red Indian' branding.
He described the sign and asked Shantz what he thought it might be worth. Shantz suggested $800-900. Douglas figured $1,500.
"Tin or porcelain?" Douglas asked.
"Tin. How about $30,000," said Shackelton. "A guy flew from Saskatchewan, a collector, but he didn't get it. The guy who bought it said I was going to pay $50,000."
"There's something different at every sale," said Shantz. "You never know what it's going to be."
"I went to the Town of Simcoe and sold 25 flags," Shackelton recalled. "When I walked in, they said they wanted $500 a piece for them. I said you're nuts. They had been hung up on the street all year, it was a keepsake. I said 'You ain't gonna get it, do you want me to go home? Because you ain't gonna get it.' I said $200-300, maybe one or two of them if somebody really goes nuts."
Shackelton did the sale, averaging $300-$450 for each flag.
"If I hadn't told them they wouldn't sell $500 each, they'd still have had them all on their hands, every one of them. You can lead a horse to water but you can't make him drink."
"Depends how much nerve you have," Shantz noted.
Auctioneers often have a 'signature' move, gesture, or saying, and in Shantz's case it involved his cane.
"Sandy would take that cane and knock your hat off just like that," said Douglas. "Just like that, bang. That got your attention, right there."
If there was a lull in the action and no one was bidding or paying attention to him, Shantz would swing his cane - in a full baseball swing - and knock the hat off a man in the front row. After that, almost every time, bids went through the roof. Once or twice he missed the hat.
"He had more nerve than I did," Shackelton smiled.
"I liked it when they wore those hard hats," Shantz laughed. "Whack them over the head."
"He was a comedian," said Douglas.
"He was one of the one's who really entertained," Shackelton nodded. "That's why he was in business."
Shackelton said honesty was also important for longevity in the auction business.
"If it's a good tractor, tell them it's good. If not, tell them it's not. That's my opinion."
They both agreed online auctions have changed the industry.
"I would say 30-40 per cent of the auctioneers went out of business," said Shackelton. "There ain't as many out there."
"That's right," Shantz agreed.
"Because they're not making money," said Shackelton. "Internet may... may take us over. I've got three or four auctioneers that don't do anything but sell on the Internet right now. Now, I can't see why a man would drive to look at a thing, go back home and in the last three hours bid another dollar, and then they still have to go back and get it and pay. I can't see it, but it's happening. I have cousins who do nothing but Internet."
Today's auctioneers tend to be younger, said Douglas.
"It is a young man's game, but with age comes experience. You need the stamina to stay with it four, five or six hours, but a six-hour sale when you're 30 is only a four-hour sale when you're 50 because you've got the experience to get where you're going quick.
"If that tractor is worth $20,000, start at $18,000," Douglas added. "Go 18.5, 18.75, 19.2. You miss the 19. Sandy, he was a genius at 'missing' a number. If you're caught up in it, you don't even know he missed. And if they know, they're not going to make a fuss." 
We apologize, but this video has failed to load.
Local auction legends meet
Back to video