It's Still Just Dirt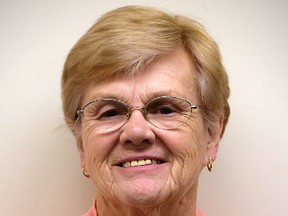 Article content
Angela Lassam - It's Still Just Dirt
Decorating inside and outside our homes for the festive season is here again.
It does not appear to be the right time as most of us have only just removed all our annual plantings although they were still in bloom. It is always a pleasant job collecting greenery, maybe making bows and buying the 2016 choice decorations for the season.
Our speaker for this month's Tillsonburg Horticultural Society meeting was from Twigs Floral Design, a local store with a modern approach to anything floral. The two ladies have attended floral conferences to be aware of new techniques and trends. Brenda Louws and Melanie Fardella demonstrated both small inexpensive and large elegant arrangements with a modern flair. They were boisterous and very happy while doing their presentation and made it look so easy. They started with a small inexpensive centerpiece which included orchids - not your usual red for Christmas but it was obviously for Christmas as cedars and other greenery was prevalent.
Then they proceeded to do a large display worthy of any prestigious foyer in any big city. Notably the arrangements could be used for any occasion by changing the flowers used. The one that was done had orchids and small candles strategically placed, but it could easily have been changed by placing eggs and spring flowers in it for Easter.
We were told that we must remember to water the oasis that our arrangements are placed in and to spritz the greenery to keep it looking fresh longer. This is often forgotten but your arrangement will last a lot longer with more attention.
The Horticultural Society members have decorated Annandale House pots and urns also outside the Station Arts Centre in preparation for the Downhome Country Christmas weekend. We hope they will be admired by all.
There are many Home Tours arranged in most towns, planned by volunteer organizations to raise funds for the less fortunate especially at Christmas time. Please take some time and go and enjoy at least one of them. Tillsonburg has one Saturday, Nov. 26, 10-4 p.m., hosted by Tillsonburg Kinettes and Station Arts Centre.
We have come to a spot in the calendar year where we do not spend time in our gardens but life does continue outside our windows and gives us a connection with the creatures that inhabit our outdoor space. I am talking about the birds (and squirrels still collecting their winter food). They will soon be unable to forage for themselves and as they give us help in our gardening world year round they deserve a little of our time. The feeders need to be put out in easy spots for us to fill them especially when the snow flies. Also for us to watch them as they will be the only color in the black and white world which will inevitably arrive. The blue jays (not the sports kind!), cardinals, woodpeckers, chickadees and juncos are now using the feeders so it is time to keep them filled regularly.
There is no monthly meeting in December but for members only there will be the usual Potluck Christmas Supper on December 6th at 6 p.m. in the Lions Auditorium, Tillsonburg Community Centre. Monthly meetings will resume in January 2017.
For information about the Tillsonburg Horticultural Society visit tillsonburghorticultural.ca online.
We apologize, but this video has failed to load.
It's Still Just Dirt
Back to video