Children can 'shop' for Christmas on Dec. 4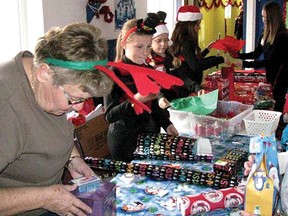 Article content
Talk Tillsonburg's second annual 'Children Shop for Christmas' on Sunday, Dec. 4, will give local children a chance to pick out a free gift for mom and dad.
"All of our volunteers are from Danscene," said organizer Catherine Ryan of Talk Tillsonburg. "All their kids are helping again this year. They do all the decorating and all the posters, and they help out through the whole event."
Basically, families are welcome to visit to the Upper Deck Youth Centre, from 11 a.m. to 3 p.m., on December 4th.
"Our volunteers take the children to the area where all the tables are set up, with all the gifts to choose from, and the children get to pick out a gift for their mom and their dad," said Ryan. "Then they get it wrapped, so when they come back to their parents, it's all wrapped and done. They get to take it home and put it under the tree."
The entire event is free, she noted, with many local businesses donating gifts and/or gift certificates.
"There is no charge for any of this. The only cost is if they want something from Upper Deck's concession booth."
The spirit of Christmas is giving, said Ryan, who created the event last year to help families who struggle at Christmas.
"We're trying to get the information out by word of mouth, more than anything. I have posters at Goodwill, Salvation Army, and one will be going up at the Helping Hand Food Bank, the grocery stores - anywhere I think families will see it. I've also shared with every business and club I can think of on Facebook. I've been asking people to share it, share it, share it... so they've been sharing it."
The Children Shop for Christmas sign will also be up at the Upper Deck Youth Centre (19 Queen Street, Tillsonburg) for the event.
"Because it's a Sunday, maybe people won't be so busy," said Ryan, hoping to see the 2nd annual event grow.
"I'm just hoping it will bring the people in. All I can do is hope..."
Again this year there will be a free draw for a children's gift basket, loaded with Christmas goodies, and Ryan added a draw for adults.
"We had about 25 kids last year, which wasn't bad, but... I had a lot of stuff left over last year," said Ryan, who gave remaining items to The Salvation Army for their Christmas hamper program, and auctioning select items to help fund the annual Scarf Bombing in town. "It circles around but I'm just hoping to have a lot more kids this year."
Gifts last year ranged from tools to hats and socks, candles and books, gift certificates, and ornaments.
"I even had gift baskets made last year," said Ryan.
"Really, there's no restrictions on donated gifts, other than clothing, just because it's hard for children to know parent sizes. If it's used, I tell people to make sure it's very gently used because they are gifts. Really, it's just anything you think parents would like. It's always nice stuff."
Donations for the Dec. 4th Children Shop for Christmas are still be accepted until December 1st at Danscene, 39 North Street, 3-8 p.m. Monday to Friday, and at Ryan's residence, 57 Trottier.
"It's more for people who need the help," said Ryan, noting children should be 2-12 years old, "but there is no line, we don't turn anybody away. It can be any family that brings their kids in, it doesn't really matter. We just want the stuff to go to homes.
"The smiles on their faces is what says it all - the kids come out with these gifts wrapped and in bags, and their parents don't know what it is. The smiles, that's kind of what got us last year. The big smiles.
"I think it makes the kids feel proud, like they've done something they might not have done without this, because the parents just doesn't have money for the kids to go shopping." 
We apologize, but this video has failed to load.
Children can 'shop' for Christmas on Dec. 4
Back to video