Annandale lights Service Club Christmas Trees tonight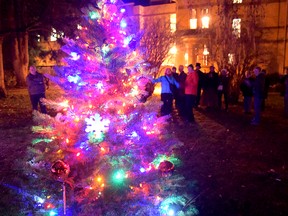 Article content
Volunteers started decorating Annandale National Historic Site in early November, working toward a Nov. 21 deadline.
"They have to be done by the 21st of November because we have six motor coaches coming in," said Patricia Phelps, Culture and Heritage Manager/Curator at ANHS, "between November 24th and December 18th - these are 50-plus passenger coaches. And we'll have school classes visiting too."
The museum is open extended hours following the Friday, November 25th Service Club Tree Lighting on the front lawn, at 7 p.m. - which they've done the past three years.
"We're not normally open on Saturday," Phelps noted. "That's the only Saturday in the season that the museum is open. We're open this Friday from 9-4 and 7-9 p.m. And Saturday 10-5 p.m., and Sunday 11-4 p.m.
"The volunteers do a fabulous job decorating, and they look really good during the day, but in the evening, they're beautiful."
The trees on the lawn are lit in honour of Tillsonburg's service clubs.
"There is a tree for each service club, and we do this because during the Annandale House Restoration Project, the Service Clubs in the day, they gave an awful lot... and still support the museum. The Lions, the Rotarians... and now that the restoration project is done, they are still here, they are still supporting us. It's a small way we like to pay tribute to the service clubs in town by lighting a tree in their honour."
After the trees are lit Friday night at 7 p.m., Christmas is officially on at ANHS, and people can tour the seasonally decorated rooms, as well as this year's exhibit - A Quilted Christmas. Refreshments (coffee, cider and cookies) will be available.
"We're going to have over 20 quilts on display from the museum's permanent collection. The oldest one dates back to the 1850s through to 1987." 
We apologize, but this video has failed to load.
Annandale lights Service Club Christmas Trees tonight
Back to video