A report on hunger by the Social Planning Council of Oxford found some local residents do not have enough to eat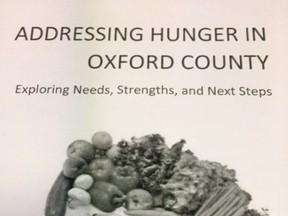 Article content
Many Canadians, including Oxford County residents, still don't have sufficient access to food, according to a new local report entitled Addressing Hunger: Exploring Needs, Strengths and Next Steps in Oxford County.
"The root causes of hunger are known to be precarious employment, income inequality, housing costs, and social assistance rates," read the report, funded by United Way Oxford and Oxford County, and prepared by the Social Planning Council Oxford (SPCO).
Ashley Farrar, executive director of the SPCO, said the study was undertaken in response to a community group that has been working to explore how this community could better address hunger.
"They recognized that more information was needed in order to better understand where our community was at, and what the community wanted to see happen to reduce hunger," Farrar said. "We were fortunate to receive some funding from United Way Oxford to go out into the community, sit at tables with both people who are currently experiencing hunger, and those who work in social services, and to look more deeply at what's happening here in Oxford County."
The results of their findings, she said, included the fact that low-income community members who access emergency food providers, talked about wanting more food.
"It was no surprise to hear that people want access to more food, more often, in spaces that feel welcoming and safe," Farrar said. "Our community wants to have opportunities to enjoy food and socialize with all kinds of people, and they prefer to not be separated by income levels."
Results from a 2012 report by Oxford County public health pointed out that 9.3 per cent of Oxford residents felt "food insecure" in 2009 to 2010, a 4.6 per cent increase from the previous year.
From 2009 to 2015, Oxford saw an increase of 23 per cent in the cost of a nutritious food basket, or the cost per week for basic food items for an average family of four to eat healthy meals and meet minimum nutrition recommendations.
Farrar explained another major theme that came out during research was that the community described wanting to shift from agency-owned solutions to community-owned solutions.
"Basically, both agencies and community members feel that there is still too much focus on agency wants and needs rather than community wants and needs, and that this is a barrier for our community," she said. "The report outlines some steps that we can take together to support the shift to a more community-focused approach."
Farrar said during the their research the community expressed interest in exploring what is known as a Community Food Centre.
"There is an opportunity to explore various models for bringing a CFC to Oxford County in order to develop a community space where food builds health, skills and community," the report read.
Visit spcoxford.ca to read the full report.
We apologize, but this video has failed to load.
A report on hunger by the Social Planning Council of Oxford found some local residents do not have enough to eat
Back to video