Environment Canada issues heat warning for July 12 through July 14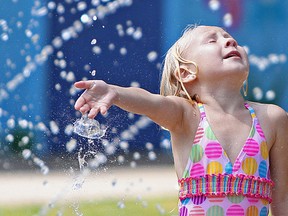 Article content
Oxford residents should brace for a couple of brutally hot days.
Environment Canada issued a heat warning for the region and much of southwestern Ontario on Monday, warning of temperatures that will feel close to 40 C on Tuesday, Wednesday and Thursday.
Overnights will even stay hot and humid, with temperatures hovering around 20 C.
"There may be temporary relief from the heat due to showers or thunderstorms. Cooler weather will arrive by Friday," according to Environment Canada.
Oxford County Public Health advises drinking lots of water and avoiding going outside. Residents are reminded never to leave a child or pet in the car.
"Frequently visit neighbours, friends and older family members, especially those who are chronically ill, to make sure that they are cool and hydrated," Environment Canada said in a statement. Oxford echoed that advice.
In Woodstock, the Woodstock and Area Community Health Centre and Goff Hall at the Woodstock District Community Complex are designated as "cooling centres," where those without air conditioning can go to cool off.
We apologize, but this video has failed to load.
Environment Canada issues heat warning for July 12 through July 14
Back to video