Tillsonburg, Ingersoll hospitals showcase collaboration, achievements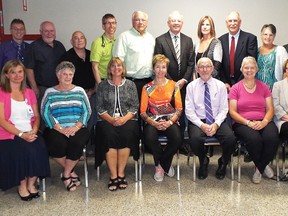 Article content
Collaboration and partnerships between Alexandra Hospital, Ingersoll (AHI) and Tillsonburg District Memorial Hospital (TDMH) continue.
Although both organizations remain two separate corporations, for the past two years they have been meeting together for their Board meetings.
"This partnership enables both hospitals to plan a more coordinated level of care so that we can better serve the needs of our patients," explained Bill Mayoros, AHI Board Chair.
Key achievements over the past year include the launch of a dynamic AHI and TDMH Strategic Plan 2016-2020 with a goal to provide integrated access to specialized, quality care through entry points close to home via each hospital's Campus of Care. The Campus of Care at each hospital provides "one-stop shopping" for quality health care.
Both organizations have also jointly launched a Patient and Family Centred Care (PFCC) Program, making patients and families partners with our healthcare teams. The board recognizes the vital role that patients and families play in ensuring their health and well-being. PFCC leads to better health outcomes and wiser allocation of resources, and greater patient and family satisfaction.
Each Hospital Foundation and local donors have helped them set new standards for safety in their Emergency Departments with the purchase of equipment for the next step of Healthcare Under Going Optimization (HUGO): Closed Loop Medication Administration.
This initiative increases security of "right patient, right medication, right dose, right time, right route."
"Our Strategic Plan 2016-2010 demonstrates our long-term vision and commitment to coordinated, safe, quality care close to home," explained Mel Getty, TDMH Board Chair. 
We apologize, but this video has failed to load.
Tillsonburg, Ingersoll hospitals showcase collaboration, achievements
Back to video