Talkin' like a pirate on Canada Day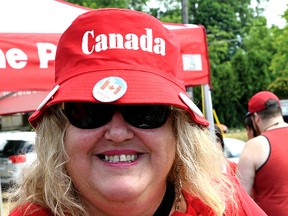 Article content
The Station Arts Centre in Tillsonburg was ready for Friday morning's rain.
"As I've said before, we're Canadian," said Deb Beard, Station Arts Centre general manager. "We toughed it out."
Tables were set up inside for the annual Canada Day pancake breakfast, and outside.
"As the rain was breaking, people were preferring to sit outside under the tents."
More than 350 people tried the pancakes (with or without sausages) prepared on-site by a team of volunteers.
"The volunteers were amazing - we had a lot of new faces helping us this year. And we had quite a few of the councillors out, and the mayor and deputy mayor."
Oxford MPP Ernie Hardeman and Oxford MP Dave MacKenzie both enjoyed Canada Day breakfast in Tillsonburg.
"I'm quite pleased, considering the weather," said Beard, "and it was so great the way the weather opened up and got better for the fireworks at night."
Traditionally their numbers are higher when Canada Day falls mid-week as more people tend to leave town on long weekends. But overall, she said the Station Arts Centre and Farmers Market vendors were quite pleased with the turnout on Bridge Street.
"The Optimist Kids' Zone got busy," said Beard, "so they were pleased with the way things worked out. And the firefighters, bless their hearts, they were very good handling everything down at their end."
Tillsonburg and Area Optimist Club organized a pirate-theme kids zone this year with games like walk-the-plank, fishing, and photos with sharks.
"Nancy Boutin, a lovely new addition this year, did a great job performing," said Beard, praising Boutin's two hours of singing. "She did a beautiful job and people were really complimenting her on the performance." 
We apologize, but this video has failed to load.
Talkin' like a pirate on Canada Day
Back to video