Seniors making a difference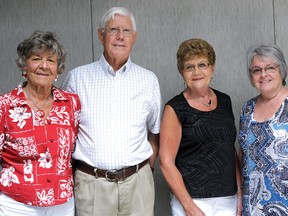 Article content
The theme for Seniors' Month this year celebrated 'volunteers that make a difference.'
At the Tillsonburg Multi-Service Centre, depending on the program, 65-80 per cent of their volunteers are seniors, who volunteer for services such as Meals on Wheels, Adult Literacy, transportation and fundraising.
"And many of our board members are also seniors," noted Maureen Vandenberghe, MSC Communications Coordinator.
Four of those seniors 'making a difference in Tillsonburg' shared what they enjoy most about volunteering.
Donna Scanlan has been delivering Meals on Wheels in town for almost 10 years.
"I drive and deliver now," said Scanlan. "I moved in town, I had a full business life and I was retired, and I thought, 'what can I do?'"
She compiled a list that included the Multi-Service Centre and Tillsonburg District Memorial Hospital.
"And those are the two I'm staying with," said Scanlan.
"You go in and they're sitting in a chair, you just try to make them smile, talk about things... what's three minutes?
"It makes my heart warm - that's why I do it. It makes me feel good, it makes me happy. And who doesn't like to feel good and be happy? And you pass that on to them as well. When you walk out that door they're saying, 'Bye, see you tomorrow...' and you get close to them.
"They make me feel good, I make them feel good," Scanlan summed up.
"It's a win-win situation," nodded driver David Moule, who also volunteers with Meals on Wheels as a team with Joan Bulloch, who delivers the meals.
"Whilst Joan is delivering, I'm getting the next meal ready," said Moule.
"I normally drive..." he added.
"You always drive," Bulloch quickly noted.
"That's just the way it is, it's not a male chauvinist bit," he laughed.
Moule and Bulloch have been volunteering with Meals on Wheels for the past six-seven years.
How did they get involved? Moule turns to look at Bulloch, smiles, and quips, "She said we're going to do Meals on Wheels."
"We all do it to be helpful," said Bulloch, but she added it's a lot more than that.
"It's something I like to do with David. It's something we can do together. We notice the gardens as we're driving, the change in the landscape.
"If it's a cold, snowy day, I would maybe say, 'I'm not going out today, I'm going to get a book.' But, Meals on Wheels... so you get your shoes or boots and your coat and you're on your way.
"Then we go out for lunch, which is an added thing.
"We meet people, and people will say, 'you haven't been here for a while,' or 'it's nice to see you again.' So we make friends."
Moule, a landed immigrant, met Bulloch 13-and-a-half years ago and made Tillsonburg his home.
"I feel this country has offered me something which I did not have in England, which was a better way of life, companionship, the love of a very wonderful woman..."
He paused a moment, "I should have put that first," and everyone laughs. "Could you change that please? When I first arrived here, I got to know Joan, which meant I got to know perhaps 60 per cent of the population in Tillsonburg, and I was greeted so warmly. I feel you can't go around 'taking' all your life, you've got to give back. Tillsonburg welcomed me as a total stranger and accepted me. I feel I have to give something back. Meals on Wheels seems to me to be a quiet way to give back. We don't have to publicize it. We do it and our friends know we do it. I feel now that I am contributing to Tillsonburg and the community."
"When I started doing Meals on Wheels," said Scanlan, "I was trained - as well as delivering the meals - to be the eyes and ears for the Multi-Service Centre. Over the years I have noted women who were sick, men who should be in the hospital. Sometimes they're not taking their meds. I think I am the eyes, seeing them, talking to them. And they will tell you all kinds of things.
"I like that part," said Scanlan. "Seeing what's going on out there."
"I think the thing that keeps coming up is how rewarding it is on a personal level," said Moule, "and it's rewarding for the recipients too, because they are seeing people from outside that front door. Many of them keep it closed..."
"Yes they do," agreed Scanlan.
"99 per cent of the time," said Moule.
"Especially in apartment buildings," said Scanlan.
"I like to go in, make small talk, and I hope it gives them something," said Moule.
"They remember it," Scanlan nodded. "We have a connection."
Donna Ludwig volunteers as a tutor in the Adult Literacy and Essential Skills program.
"It's one-on-one with an adult student who wants to learn to read and write English," said Ludwig, who has been volunteering for the past seven years. "The student I have now, I think he's 56 or 58 years old and he works full-time. He's so hardworking. He wants to learn. Not just for his job, it's because he wants to learn. He's the greatest - it's just so rewarding."
Learning to read and write a second language on a part-time basis takes time, she noted, and she has spent years with the same student.
"It depends on the student. Because of the excellent materials the literacy program here gives you, it works very, very well.
"It is very, very rewarding," Ludwig nodded. "It's just a two-hour commitment every week with the student. It depends on yourself how much you prepare. What I'm doing right now doesn't take me a long time to prepare, but the other program I was in took longer.
"I'm retired," Ludwig shrugged and laughed, "what else do I have to do?" 
We apologize, but this video has failed to load.
Seniors making a difference
Back to video