McGaw catches 'the big one'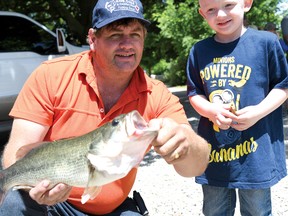 Article content
Four-year-old Liam McGaw needed some assistance Saturday afternoon at Lake Lisgar.
Mike Dean, organizer of the July 2nd Tillsonburg Fishing Derby, volunteered to hold McGaw's 18-inch largemouth bass for a photo opportunity. McGaw stepped in closer, but made sure he wasn't 'too' close.
"To be fair, I helped him reel it in," said Liam's father, Darryl McGaw, from Tillsonburg.
"We were fishing just around the edge," said Darryl, nodding to an area not far north of the dock. "That's where we caught it. Biggest one I've ever seen."
"The biggest fish today was caught from the shore and so were the catfish - some pretty good size catfish," said Dean. "The biggest was 22 and three-quarter inches. The biggest crappie was nine inches. No trout, and I'm surprised. But it's so warm they're going to go down deep."
While Liam got 'the big one' - and won the children's division for Biggest Fish - Darryl didn't have as much luck at their first fishing derby.
"I caught maybe half a dozen sunfish."
Most fish caught by one angler was 32.
108 anglers - adults and children - registered for Saturday's family-friendly derby, annually scheduled on the first day of Ontario Family Fishing Week (July 2-10), a full week of fishing fun without the need of a licence in Ontario.
"Now that's a dad," said Glen Bailey, Oxford OPP Auxiliary, pointing to Tillsonburg's Jason Soper, who was packing up his inflatable rowboat. "He bought that boat, pumped it up, and rowed it end to end. I'm impressed."
"This was its maiden voyage," said Soper, who was fishing with his son Drake.
The Sopers enjoyed their time on Lake Lisgar, but didn't bring in any 'big' fish.
"Not this year," said Drake.
"Next year," said Jason, who plans to take their new Seahawk 3 out again soon. "I think it was fun."
"That's the whole thing, getting parents out with their kids," said Dean, who thanked all the derby volunteers including Teresa Oldham (PIC This Studio), LeeAnne Young, Gord Graves, Dennis Taylor, Janet Ionson, and Jennifer and Rosemary Dean.
"I'd also like to thank Carrie Smith, The Co-operators (C.L. Smith Insurance Group Inc.), who helped offset the cost of the food; and Kids, Cops and Canadian Tire Fishing Days (PAO, Canadian Tire, Oxford County OPP), who donated some of our prizes."
Advanced Automotive covered the remaining expenses.
Door prizes were provided by Robert Jones Marine - Otter Valley Paddle Sports, who donated two rentals.
"They (Otter Valley Paddle Sports) are here Wednesdays and Fridays till dusk, and weekends till dusk, and they're from Tillsonburg," Dean noted, "So they'll be here all summer long." 
We apologize, but this video has failed to load.
McGaw catches 'the big one'
Back to video