Fun Fair highlights Canada Day at Annandale National Historic Site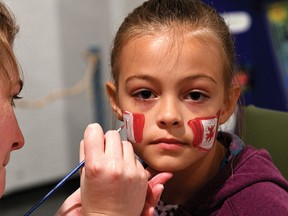 Article content
Who is the current Prime Minister of Canada?
How many lakes are there in Canada?
What animal is on the Canadian quarter?
Which of the following sports was NOT invented by a Canadian?
These were some of the multiple choice questions on the Canada Day Adult Trivia and Kids Canada Day Quiz at Annandale National Historic Site on Friday, July 1st. Winners were to be posted on the ANHS Facebook page (Annandale NHS) - Ken Patterson won the adult trivia.
"They are just marking them today," said Phelps on Monday. "I didn't count how many, but I would say at least 50 entries in both quiz divisions. Probably more. And there were hundreds for the Jelly Bean Guess."
A rainy morning prompted organizers to move the Fun Fair indoors.
"We had a soggy morning," said Patricia Phelps, who greeted visitors at the front door, directing them to activities in the Pratt Gallery, the Program Room, and throughout the museum, "but it didn't dampen our Canada Day spirits. We scaled down and moved inside because although it had stopped raining (for the 12-2 p.m. Fun Fair traditionally held on the front lawn) the grass was pretty wet. We didn't have as many games inside, but we always find room to celebrate in some way."
They did not, however, scale down the treats - visitors lined up for free snow cones, popcorn, candy floss and Canada Day cake.
"We renamed the Program Room the Treat Room," said Phelps, who thanked their local sponsors - Tillsonburg Kiwanis Club and Knights of Columbus. The Department of Canadian Heritage provided a grant to the town for cake at Tillsonburg's various Canada Day venues including ANHS.
Face painting was easily the most popular station, she said, with lines forming as soon as the face painter arrived until 2:45 - a full 45 minutes after the Fun Fair had concluded.
"We were pretty steady throughout the day and we had people from all ages, from babes in arms to grandparents coming through to celebrate Canada Day. And most of the people were wearing red-and-white, which was nice to see. I would say we had a very successful Canada Day."
Open from 10-4 on Friday, Annandale National Historic Site had about 561 visitors, including those who arrived before - and after - the two-hour Fun Fair.
"Some came just to tour through the building because they had never been here," Phelps noted. "We still had people coming in at 3:45."
The Otter Hunt - searching for hidden otters in Annandale's 20-plus rooms, was also popular, she said.
"We do it with turtles at Turtlefest and we do it with otters on Canada Day, and the kids come in looking for it. Adults, too. They really have fun and enjoy it."
We apologize, but this video has failed to load.
Fun Fair highlights Canada Day at Annandale National Historic Site
Back to video