Branch 153 team wins Ontario Legion euchre championship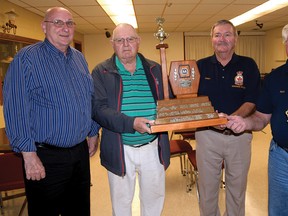 Article content
Euchre requires a measure of luck and skill. How much luck and how much skill is up for debate, but the Tillsonburg Royal Canadian Legion Branch 153 euchre team of John Grabstas, John Pattinson, Peter Good and Ken Price agreed it takes both to win the Provincial Euchre Championships.
"You have to get the cards," said Price. "But if you get the cards and don't play them right..."
The Branch 153 team, which evolved over time as members were added due to illness or other commitments, had both en route to winning the Legion's 2016 Ontario Euchre Championship on May 7.
Grabstas and Pattinson formed half of the team, while Good and Price partnered to produce identical 7-2 records in Angus. Their combined 14 wins (23 pts) was enough to win the Ontario title.
"This is the first time a Tillsonburg team has won this trophy," said Price, who checked the names on the trophy.
Branch 153 was also represented at the euchre provincials by a second team consisting of Fred Mabee, Remi Vandeslyke, Matt Weber and Larry Dejaegher.
"They are a good team," Price noted. "They have won District two or three times... and they made it to the provincials this year. It just wasn't their day."
Tillsonburg will host the 2017 Provincial Euchre Championships next May, but neither of the Branch 153 teams is guaranteed a berth in the tournament.
"We all have to go back to the start and re-qualify," said Price, noting it's a challenging task working your way through zone and district to the provincials. 
We apologize, but this video has failed to load.
Branch 153 team wins Ontario Legion euchre championship
Back to video