United Way Day of Caring sees 140 local employees volunteer across Oxford to help community agencies with maintenance and special projects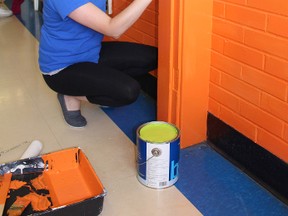 Article content
United Way's Day of Caring is all about giving the gift of time.
A team from Great Northern Insulation wielded paintbrushes Thursday, touching up the lounge, front hall and gym at Ingersoll's Fusion Youth Centre.
"It's just a great way for us to give back to the local community," said volunteer Mandy Clark. "Things are looking a little fresher already."
It's the third year Great Northern Insulation has jumped on board for the Day of Caring, a campaign that sees local businesses contribute to projects that give community organizations a boost.
More than a dozen sites across Woodstock, Ingersoll and Tillsonburg were home to volunteers on Thursday, with 140 local employees chipping in to help local agencies spruce up their gardens, paint jobs and meal programs.
"The real meaning behind it is to give back to your community with the gift of time," said United Way campaign manager Shelley Lachapelle. "It's about that hands-on work and seeing first hand about the difference you're making in the community."
She noted that volunteers could literally see the difference they've made by the end of the day.
And agencies on the receiving end, like Fusion, are very grateful.
"We really appreciate their help and support. It's fabulous to see the community come together like this," said Fusion Centre manager Andrea Brown.
The volunteer projects are also a great way for local workplaces to squeeze in a little team building while doing good. Clark said the Day of Caring has always been a great experience for the Great Northern team.
"If you're a local company and you're looking for some way to help out, United Way fully organizes it for you. You just put your name in and they give you the project. You just show up," she said.
The Day of Caring also allows volunteers a behind the scenes look at the work of local agencies.
"It provides a better understanding of what that community organization is doing to make our community stronger," Lachapelle said.
The team from Great Northern Insulation received a tour of the Fusion Youth Centre before they started painting.
"This is a great project. We're always looking for community members to come check out the centre, and it's a great time for us to get some work done around the building," said Fusion Centre assistant manager Craig Boddy. "Painting is always a key thing to get up to date, but it's tough to do with people always being in the building."
Lachapelle said it's gratifying to see so many local workers support the United Way's Day of Caring.
"On this day 140 people are coming together to make sure these projects get completed. That's amazing results for our community. It's not always about dollars and cents, it's about the gift of time," she said.
"When we all work together, amazing things happen."
We apologize, but this video has failed to load.
United Way Day of Caring sees 140 local employees volunteer across Oxford to help community agencies with maintenance and special projects
Back to video