"Where are you Christmas?"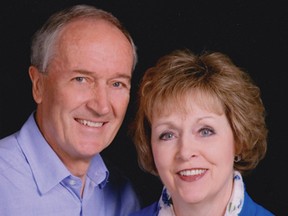 Article content
A Christmas meditation by Pastor Paul Robinson.
I love Christmas! It is a time of such joy and gladness. And yet, for many, especially those who carry in their hearts the pain of losing a loved one, Christmas is a time of pain and sadness, accentuated at times by the forced gaiety of the season.
Recently my wife and I watched the Jim Carrie version of "How the Grinch Stole Christmas," in which Cindy Lou Who sings the Faith Hill song, "Where are you Christmas? Why can't I find you? Why have you gone away? Where is the laughter You used to bring me? Why can't I hear music play?"
For those who move through the season with hearts heavy from loss, or from the trials and struggles of everyday living, Cindy Lou Who's song is their song. The joy of Christmas just isn't there.
How can it be, when a loved one is gone, or when pain of any kind grips our heart?
And yet, somehow, as Cindy's song continues, there is more than a glimmer, indeed, there is a bold assertion that, "Christmas is here, Christmas is everywhere. The joy of Christmas stays here inside us, fills each and every heart with love."
And one has to ask, "How can that be?" How can those living in a cloud of despair find hope and joy?
The answer – as we listen again to the message of Christmas – is simple enough: that the whole point of Christmas is that because man had been in despair, because man needed hope and joy and because darkness had covered our world – because of all that gloom, the skies exploded with light on a hillside outside an obscure little town called Bethlehem.
When that announcement came to a dark and weary world, it came in fulfilment of a four-centuries-old prophecy, a promise from long ago that One would come to dispel the darkness and to shepherd those in despair, taking them in his arms as a shepherd does the lambs.
And so the Shepherd had come. In so doing, His miraculous birth, His singularly remarkable life as He walked and taught and healed along the shores of Galilee, His intentional death on a cross changed everything – including man's capacity to bear the deep grief and pain we face in this world.
Yes, the intensity of our pain is so often increased at Christmas. But also, ironically, it is precisely because of Christmas that we are able to bear the pain at all. For this One born at Bethlehem came to die that we might live. And to those who will receive it from Him, He brings comfort and peace that the world cannot give and cannot take away.
Nor does the story stop there. For one day, as He promised, He will come again, ushering in a new heaven and a new earth where God shall wipe every tear from our eyes and where there will be no more death or mourning or crying or pain.
We all long for that day. In the meantime, as the carol "O Little Town of Bethlehem" says, "Where meek souls will receive him still, the dear Christ enters in."
Or as Cindy Lou Who would say, "Christmas is here, Christmas is everywhere. The joy of Christmas stays here inside us, fills each and every heart with love."
May that be so for you this Christmas time and beyond!
St. Andrew's
Reverend Paul Robinson is the pastor at St. Andrew's Presbyterian Church in Tillsonburg. He invites any who do not already have a Christmas Eve service to attend to join them at 7 p.m. on December 24th for a one-hour service of readings, special music, familiar carols and candlelight. St Andrew's is located at 46 Brock Street West.
We apologize, but this video has failed to load.
"Where are you Christmas?"
Back to video