The World is a Stage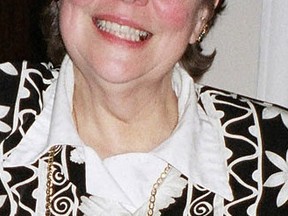 Article content
The organizers of Christmas Festival this year certainly work hard to pulling together a great line up of all the events hosted in town by various groups like the Kiwanis Santa Parade, craft shows teas, meals, swims and all their special concerts, contests, and tree lightings. It has been a busy season and I am sure everyone on that committee is ready to drop.
If you ever want to put the Christmas season in perspective, get sick. Get too tired to decorate, or shop or even think about putting on a dinner. Some of you will have felt that way this past week or two just from the amount of running around after work you have done. No matter what the reason, you do realize you don't need to, don't you?
Christmas isn't about decorating. It isn't about turkey or presents. Although I have trouble writing this, it really isn't about a white Christmas either. (I do love snow!)
It is about goodwill toward family and strangers. It is about love. It is a religious holiday, which is why the name Christ, is in Christmas! Surprise! It isn't called Santamas or Presentmas. If you research you will find that almost every country celebrates Christmas and almost every other religion has adapted the parts of Christmas they like, without the religious connotations into a holiday they can celebrate too. For too many people it has nothing to do with the real reason for Christmas.
In 13 months, we will be celebrating 150th Anniversary of the beginnings of Canada. Our country and indeed our town of Tillsonburg were all founded, settled and organized by Christians. Our very laws and freedoms are all based on Christian principles.
In 1866, the fathers of Confederation were assembled to discuss the terms for uniting the Canadian provinces. They wanted to use the word "Dominion" from Psalm 72, which also became our country's motto: "He shall have dominion also from sea to sea, and from the river unto the ends of the earth."
A letter signed by John A. MacDonald, our first prime minister, to Queen Victoria noted that the name was "a tribute to the principles they earnestly desired to uphold." The last province to join Canada was Newfoundland whose motto is "Seek ye first the kingdom of God" from Matthew 6:33.
The country stayed with its Christian heritage until about the 1970s. Prior to that almost all families went to church every Sunday. They didn't work on Sundays and in fact kept that one day of the week for the family. The church not only provided spiritual and emotional solace but also an extra family to fall back on when times were tough. Most of our immigrants, until this time were from Christian, European, countries.
Since then, 'do unto other's as you would have them do to you', changed into the 'it is all about me and what I want' world. People stopped going to church for many reasons. Back then I stopped as well, although I am so happy to be back now.
When we were being settled almost all the churches either sent or supported missionaries in other countries who were spreading 'the Word'. They didn't have to do it in their own neighbourhoods, as almost everyone was Christian.
But today, that is not the case. In Canada, in 2011, Christianity is still the largest religion, second on the list: NOTHING. (Stats are done every 10 years.) Today China and Africa are sending missionaries to Canada. Christians today are not doing one of our most fundamental directives: to spread the Word.
Those 2011 stats are changing very quickly as the only way our Canadian population can grow is by welcoming immigrants to our country and the vast majority of them today are not Christians.
Perhaps this Christmas, Christians should be paying attention to the name of the holiday and take the time to consider that perhaps Christmas is the one time of year that would be especially good for each one of us not only celebrate Jesus' birth but his whole life and principles, and start to build our country back up once again, to sustain the way of life we hold so precious.
There is beautiful advertisement on television that shows a family living beside an older man, who never decorates. They took some of their lights and brighten up his house and his life.
We apologize, but this video has failed to load.
The World is a Stage
Back to video