The duel in the pool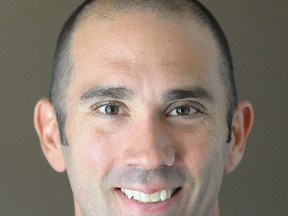 Article content
George Papadakos - Triathlons
With the holiday season upon us, and the dawn of a new year just around the corner, the itch to race again has slowly crept into the back of my mind.
I approach the new year the same as most folks, as a chance for a new beginning and the start of my triathlon training.
But with the race season still six months away, a great opportunity to have some fun and race in just one single sport arose.
The South Western Aquatics hosted a time trial event due to a swim meet being cancelled, and I was offered a chance to race three 50 metre races.
In triathlon I would usually employ a freestyle stroke, which is definitely my bread and butter, but this time trial event also allowed me to race backstroke and butterfly.
For those of you that are new to swim meets like me, it was a little daunting. To be honest I feel more at ease on the starting line of an Ironman race.
There are just so many great athletes, and a lot of them swim at the provincial and national level, which in itself is intimidating. Couple that with the fact that they are 16 years old and younger made me feel like I was a grandpa (which I'm not).
But I am not afraid of embarrassing myself, and I really wanted to test where I was physically and mentally in the pool, as the fall months have been a little frustrating in the continuing rehab of my shoulder.
So after a 30 minute warm up, and some starts off the blocks, it was time to go.
First up was the 50 meter freestyle, my favourite, and unfortunately everyone else's as well. I picked a heat that had some good times in it and choose a lane.
I could sense the fear in the 12 year old beside me, until I looked over and realized it was my daughter, laughing at me (probably at the sight of me in my speedo). I told her not to let me beat her. She didn't.
It was close for 40 meters, then the wheels fells off and she finished strong to the wall. I finished with a time of 32:58sec and although it may not be my fastest, I was pretty happy. A couple of high fives from the cool kids and I took my place beside some 12 year olds waiting for their swim.
I approached my bonus swims as a throw caution to the wind, who cares attitude and it worked, I think. My backstroke must of looked like I was dying, it felt like it, and I'm sure I made the lifeguard uneasy. I finished strong and even posted 41:25sec time which again I was happy with and my shoulder had shown resilience to maximal effort.
This swim stuff is fun, and then reality set in... 50 meter Butterfly.
If you know how to perform this stroke properly it is the most beautiful stroke to watch. So much power and finesse intertwined into something that I would almost describe as alien.
If you don't know how to do this stroke... it looks like you don't know how to do this stroke.
Luckily or unluckily for me I fall in-between these two platforms, and probably more towards the latter.
Being my last race of the day I had nothing to lose. My daughter would once again be on my flank, and this is her favourite stroke, so if anything I would motivate her to bury me somewhere on the bottom of the pool.
As we took the blocks, all the physical and mental cues went through my head… 50 meters… you got this… good breakout… good turn… finish.
The horn went and we were off. Good breakout, strong kick and right into butterfly. Daughter coming up just behind me on the breakout, I know she won't be there for long, but I'll use this as my motivation.
Closing in on 25 meters… she is right beside me and at the turn she is gone. The equivalent of eating someone's dust in the pool just happened, and the wheels that had fallen off earlier were loosening again.
Oh boy… 25 meters to go and with what I would call a smallish gallery watching the slow old guy in last place, I was afraid that this might not happen.
But as soon as those thoughts entered, my racers mind appeared and I was going to finish, and most certainly not going to have that poor lifeguard jump in and save me.
I can remember the last ten metres as if they were 1,000, people cheering, screaming my name (at least that's what I think I heard), timers getting close to the edge to make sure that I got an accurate time and then the wall as I slammed into it with both hands, putting an exclamation point on what I thought was an excellent race.
My time was 38:52sec and even though it probably looked bad, I gutted out a result and had an awesome time in the process.
As a parent of two swimmers I can appreciate how much work goes into training, so it's nice to see kids having fun and racing their peers, but more importantly themselves.
On a side note I have since found the wheels that feel off, and have talked to coach Roman about perhaps competing in a masters swim meet, that's just for old guys. It could happen.
Merry Christmas everyone!
And until I see you at the start line, train safe and have fun!
We apologize, but this video has failed to load.
The duel in the pool
Back to video