Stay safe this winter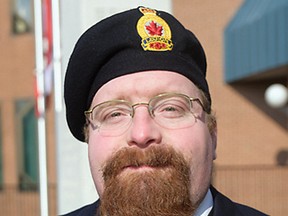 Article content
Jason Pankratz - Tillsonburg Legion Branch 153
We want to stress the importance of being safe and aware over the holiday and New Year season.
Although we have not seen much of Mother Nature's winter wrath yet, we probably will. When traveling, take the time you need to get places, be conscious and courteous of other travelers. When we do see seasonal precipitation, remember to drive safely, slow down (but not too slow), use your blinkers and look out for others! Wear your seat belt, drive slowly in parking lots and for the love of goodness, do not turn right on a red just to beat another car! No one needs to be in such a hurry that they put others in danger.
We also welcome everyone to stop in and 'warm up' in the Legion canteen this winter. The canteen is a great place to visit, congregate with friends and make festive cheer! Spend some time down in the canteen playing cards, darts or pool. Remember to enjoy responsibly and to use the numerous options that are available to get home safely.
With that in mind, do not forget about our annual President's Levee on Friday, January 1st, 2016. Yes, I said it... 2016. The levee is open to everyone! It will be held in the Legion hall from noon to six. Bring your own snacks, enjoy New Year beverages including the classic Legion Moose Milk. Don't worry about your resolutions just yet. Just plan on bringing good friends and enjoying the party.
As a community resource we also want to keep you safe from possible swindles. Remember that this is the season in which many organizations ask for donations but it is important for you to donate to reputable, trusted sources. We know there have been a few suspicious phone calls throughout the community. It has been shared that someone recently got a phone call asking for donations for overseas veterans. The Legion did not recognize that charity. So when in doubt, call the Legion and inquire. Donating directly to your local Branch or to the Poppy Campaign is the most trustworthy option when considering veterans and Legion supports.
Be aware of other agencies that contact you over the phone, computer or by door-to-door canvasing. There is no reason you should ever give someone your name, contact information or personal banking information over the phone, computer or in person unless it is a trusted source. It is about being vigilant and cautious about canvasing calls and when organizations want your information. Do not willingly provide an aggressive person, no matter how persistent, with content just to appease them. That is a trick they use. They may also try to pull on your heart strings. If you are apprehensive about anything; do your research, contact your bank, family and friends, or the police.
Lastly, let's remember our seniors and veterans during this holiday season. Take the time to call, write a letter and visit with them. Let them know that they are not forgotten and that we appreciate what they have done for our generations. It was 101 years ago, during WWI, that troops laid down their weapons for the Christmas truce. Let us marvel at the peace that can be sought after and achieved in the midst of tragedy and conflict. These are wishes that we carry as stewards of history and humanity.
Tillsonburg Legion Branch 153 wishes you a safe, happy and healthy Christmas season.
We apologize, but this video has failed to load.
Stay safe this winter
Back to video