Firefighter family adopts and shops for three families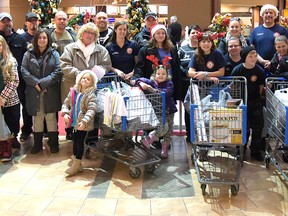 Article content
A group of 30-plus Tillsonburg firefighters, dispatchers, and their families were checking their lists Saturday morning.
Then checking them twice. And maybe even a third and fourth time.
Their mission was to go shopping in Tillsonburg for three families, buying Christmas gifts for everyone on the lists, as well as essential supplies and food, using $1,000 raised at their annual Firefighters Steak BBQ.
The priority was food, said organizer Jason Bezaire at the Fire Hall, as he divided the group into three teams, asking them to save $100 for food – and urging them to stick to the budget.
"That was my main priority," Bezaire nodded. "As long as the kids have a present under the tree, that makes their Christmas. But food is a big thing because you want to make sure they're eating healthy. Not just for Christmas. If we can help them out for more than just one day... through the Salvation Army hampers... that's great. I imagine with the groceries we bought them, they should be sustained for almost one month."
On behalf of Tillsonburg's 'firefighter family' Bezaire thanked everyone who donated, including Family Dentistry who donated oral hygiene products, Sobeys, and Walmart. And a big thank you for the support of the community.
"This was our first time doing this, but it's going to be an annual thing," said Bezaire. "We're going to use our funds from the Steak BBQ towards that every year. Hopefully next year... it will be even bigger and better."
The first stop was Walmart at the Tillsonburg Town Centre. Some teams went straight to the toy section, some to household supplies. All three groups seemed to finish at the clothing section.
Superman or Flash? What about Ninja Turtles?
Could they afford a Lego set?
Where are the Hot Wheels?
Books? Where are the books?
Each team was shopping for both kids and parents, but they had limited information to work, adding to the challenge. Slowly the shopping carts filled up.
When they checked out of Walmart, the teams headed to the Dollar Tree to buy more 'miscellaneous' items. Then to Sobeys to get food.
"Sobeys also made a $100 donation per family for a turkey – it's a turkey in a box dinner, pre-cooked, with all the fixings. So families who don't have an oven can heat it in a microwave."
The teams used their remaining $100 to buy everyday items, from cereal to canned goods.
"Just stuff for everyday life," said Bezaire. "Salvation Army does a hamper, and they basically work with the Food Bank. Whatever food they had on their list, we got for the families."
It felt good to give back to the community, he said.
"It was a great time. There's no better feeling than helping out another family. To see everyone's families coming out, it's also teaching our kids the value of it. They can see there are people out there that need help. It was a great experience."
While they were shopping, wearing their Tillsonburg Fire and Rescue Services shirts and jackets, several people made donations on the spot.
"I believe we got about $200 more in donations," Bezaire noted, anticipating donations will grow next year.
With the extra funds collected Saturday morning, and any leftover money, they were able to give each family a gift card at Sobeys.
"There were a few corporates that offered to donate toys this year, but I didn't know what families we had or what they needed."
"We enjoy nothing better than spending time together as a fire family," shared Ted Sanders on the Tillsonburg Fire and Rescue Service's Facebook page. "We hope you get the chance to spend some time with yours this holiday season. From our fire family to yours, have a beautiful holiday season!"
We apologize, but this video has failed to load.
Firefighter family adopts and shops for three families
Back to video