Feast of Friends on Christmas Day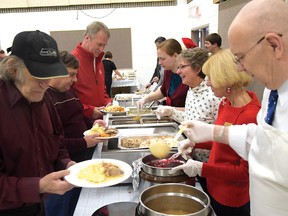 Article content
The Feast of Friends, organized by The Salvation Army on Christmas Day, is all about friendship.
And a full course turkey dinner.
The annual Salvation Army tradition started in Tillsonburg nearly a decade ago.
"It's seven or eight years at least," said Donna Acre. "It could be closer to 10 years."
Originally held at The Salvation Army Church, they needed to switch venues to accommodate more people. This year's event is at North Broadway Baptist Church, from 2-4 p.m., on Friday, Dec. 25th. Organizing it is a team effort.
"I get it started, but then I pass if it off to the pastors at the church (Ron and Starr Ferris)," said Acre. "There's a couple from the church who go buy all the groceries. And Pastor Ron and Starr's son-in-law is the chef this year."
Their chef will be preparing six turkeys for about 150 people. It will be accompanied by dressing, gravy, potatoes, vegetables, and salad. And about 25 pies for dessert.
"Just the whole Christmas meal," said Acre. "And then we do the Christmas carols."
North Broadway Baptist Church provides both ample space and a superb kitchen for the event.
"It's hard to figure out how many to plan for. We hope they RSVP, but most people just come. And we have a lot of volunteers who help, too. It's a really good time."
Some volunteers are also 'alone' at this time of year and volunteer to be part of a truly delicious Christmas dinner.
"We've actually had people from Kitchener and London come down and help."
Invitations are sent out through their Christmas hamper program, but they also advertise it to the general public.
"It's for anybody," Acre noted. "It's all about inclusion."
The meal is free, but donations are accepted.
"A lot of people want to give back so we have a donation plate. The donations will definitely be accepted, and they'll help with the next Christmas."
HAMPERS
The Salvation Army hamper program wrapped up on Tuesday, Dec. 22.
"Yesterday was a long day," Acre smiled. "With the Adopt-A-Families, I'd say we had 250-260 hampers this year. That's about average. All of them are Tillsonburg and area. We take in quite a large area around Tillsonburg.
"Most of them are picked up – it takes us two full days to hand out hampers. We have a few that can't get them, so we drop them off."
We apologize, but this video has failed to load.
Feast of Friends on Christmas Day
Back to video