Ernie Hardeman asking health minister to explain surgery slowdown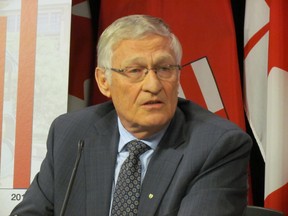 Article content
Oxford MPP Ernie Hardeman has sent an open letter to Health Minister Dr. Eric Hoskins demanding an explanation about delays to elective surgeries in southwestern Ontario.
These elective surgeries -- which include cataract surgery, and hip and knee replacements, among others -- are being delayed because of budget problems. Hardeman, the Conservative agriculture critic, wants to know the extent of these delays, adding the minister's answers so far have been insufficient.
"We're asking him how many (surgeries) have been cancelled, because of this direction from your ministry?" Hardeman said. "These people deserve a better answer than to say, we're working it out. Tell us how many people you have negatively impacted by that decision."
Hardeman said this issue is due to the provincial government not prioritizing health-care funding, noting there was a time where special funding was being put into elective surgeries in order to shorten the waiting list.
"They just tried to reduce the list with one-time funding and then expect the hospital to keep that list small with their regular funding, and it just doesn't work," he said. "They have to start looking at prioritizing the services that they are providing and which ones should and shouldn't be funded ... We seem to have endless amounts of money for new programming ... but they're not funding the basic services that people have a right to depend on." Hardeman said he wants to know how big the impact really is, adding he has some idea from the letters being sent to his office and from what he's heard from constituents. Still, he wants a fuller picture.
"Is it across the whole system, or is it just in defined areas?" Hardeman said. "I think there is a bigger issue and I think it just hasn't come out in those areas.
"We would like some explanation," he added. "How big this problem is and whether it's bigger in the area I represent than it is in some other areas, and if that's true that's an even bigger problem. If they're picking and choosing who gets the money and who doesn't."
It was reported by Postmedia earlier this week that hospitals in this region were mothballing their operating rooms for key surgeries because of a lack of funding.
We apologize, but this video has failed to load.
Ernie Hardeman asking health minister to explain surgery slowdown
Back to video