All-way stop added to North Street, Quarter Town Line intersection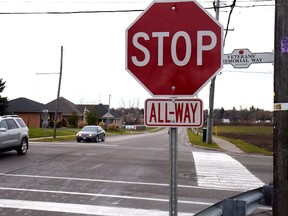 Article content
Motorists will notice a new all-way stop in Tillsonburg is now in effect at the intersection of North Street and Quarter Town Line.
The new traffic control has been added to decrease the number of collisions and near misses at the intersection.
Oxford County Council approved the new all-way stop in November, following a resolution from the Town of Tillsonburg requesting the additional stop signs. The new signage was installed Wednesday morning (Dec. 23) with new paint markings on the roadway to follow in the spring.
North Street (Oxford Road 20) and Quarter Town Line both have posted speed limits of 50 km/h and there are no sight-line issues approaching the intersection. Collisions appear to be caused by speeding and a lack of attention, and the new stop signs and road markings are expected to improve safety at the intersection.
Tillsonburg's new all-way stop is just one of the safety enhancements made on Oxford County roadways. Four improvements were made earlier this year in South-West Oxford and Norwich Townships including speed limit reductions and new stop signs.
More information on Oxford County roads can be found online at www.oxfordcounty.ca/roads.
We apologize, but this video has failed to load.
All-way stop added to North Street, Quarter Town Line intersection
Back to video