Seasonal Affective Disorder a mental health issue for many people in Oxford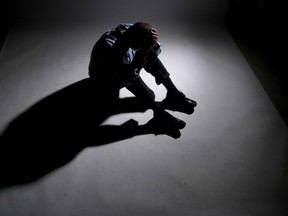 Article content
The year is coming to an end and that means shorter days and cold weather; and unfortunately for many, it also means symptoms of Seasonal Affective Disorder (SAD) are setting in.
SAD is a form of depression that tends to show symptoms in the late fall and during winter when the temperature drops and when there's a decreasing amount of sunshine per day, said Christy Kent, an outreach support worker for the Canadian Mental Health Association of Oxford.
"Decreased energy, irritability, isolation, weight changes - whether it's losing weight or gaining weight, depending on the person - are all possible symptoms of Seasonal Affective Disorder," she said.
Other symptoms are change of appetite, fatigue, tendency to oversleep and difficulty concentrating.
"Depression and anxiety can also be symptoms," said Kent.
People who live in northern atmospheres are more likely to develop SAD because there's less sunshine, said Kent.
"Places in Florida have rates that are very low, but in Canada they're high," said Kent.
Between two per cent and three per cent of the general population suffers from this form of depression, but up to 15 per cent suffer from a lesser form of SAD often known as 'the winter blues,' she said,
"I wouldn't say there's a particular age or demographic that SAD affects more," said Kent and added that keeping an active lifestyle can help reduce the risks.
Fortunately, there are ways to help cope with both SAD and the winter blues.
"In terms of medical support, it's always good to check in with family doctors," said Kent. "They do say anti-depressants can help with SAD, but therapy and other methods are shown to help more."
Light therapy is another option.
"There are light boxes people can purchase if they can't get natural light," said Kent.
But despite the grey skies and rare sunlight, those dealing with the winter blues should still make an effort to clock in some time with Mother Nature.
"Some people just decide to stay inside when it gets cold. (But) for the winter blues being active, getting out of the house is the best thing you can do."
Where to get help:
Canadian Mental Health Association of Oxford, 522 Peel Street in Woodstock and offices in Ingersoll and Tillsonburg.
They can be reached by calling the urgent service line 519-539-8342 or 1-877-339-8342
We apologize, but this video has failed to load.
Seasonal Affective Disorder a mental health issue for many people in Oxford
Back to video