The World is a Stage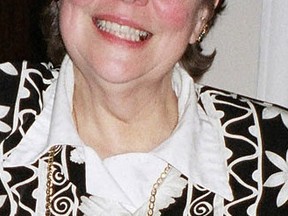 Article content
Laurel Beechey - The World is a Stage
Michael Toby came to town a few years ago (2011) to share stories, songs and history about the Underground Railroad.
For those of you who enjoyed this entertaining and very informative evening, you will be thrilled to know he will be back on August 8th at 7 p.m. But he will not be moving our hearts with the songs of slaves, he will thrilling us with the music of the movies in his 'Hooray For Hollywood!' concert.
For anyone who has not heard Michael sing, you are in for a delightful evening. Michael doesn't just have 'a good voice,' Michael is a trained opera tenor! Now, for some of you the word opera thrills. For other is scares them away, but you can be assured that when he sings the music from the movies is going to sound like heaven for everyone. So don't freak out when I give his biographical credits.
Opera is very dramatic and unfortunately too often sung in a language no one understands, so the story in essence is told by the actors' physical movements and the emotional inflections in the music. If the actor can wow the operatic audiences, imagine what it would be like when you have the power of the lyrics as well.
Michael has played the lecherous duke in Verdie's Rigoletto, the comical farce of the bumbling Rinuccio in Puccini's Gianni Schicchi as well as the ardent romantic Rodolfo in Puccini's La Boheme. Michael graduated from McGill University. He has sung extensively in oratorio and concerts, from the tenor solos of Handel's Messiah to the goose in Orff's Carmina Burana. Those roles alone will cover about every emotion and genre of the music you love from the movies.
Michael has soloed with Toronto, Scarborough and Hamilton's Symphonies as well as Buffalo and Hamilton's Philharmonic Orchestras. His voice has been described as a "strong lyric tenor voice" that is "specially cultured" with a "lyrical richness."
Michael also performs regularly as a member of the trio, The International Tenors, which includes Mich Seekins and Darrel Hicks. They have performed around the United States and Canada.
So what is a fantastic tenor like Michael doing in Tillsonburg again? The $20 ticket for 'Hooray for Hollywood' will not only thrill you, but the proceeds will be split with the Community Kitchen at St. Paul's for the meals they prepare and serve all winter to meet the needs of the hungry in our community.
If you are a good singer in Tillsonburg, you want to sing in St. Paul's United Church on Ridout St. W. The acoustics are good and there is a lot of seating in the church. Granted they are pews, so bring a pillow! But singing in a church is a comfortable place for Michael Toby for he is so much more than his voice, as Michael also preaches at a small county church between his concerts as well as teaching at Mohawk College.
Michael was born in Toronto, but grew up in Trinidad and later returned to Canada. He enrolled in McGill University to become a doctor, even though he loved music. A chance meeting with Barry Manilow made him switch gears.
"He said if I'd really rather be in music I should do it, because he was in advertising for a while and he waited, and he always regretted it. So I started taking voice lessons."
He eventually joined the music department at McGill, got his master's and became an opera tenor. He didn't stop there however, for he then went to Bible College and that is how the tenor became a preacher. Can you image the choir at his church?
Michael's concert is also the opportunity for you to treat yourself, your children or grandchildren to an event that you would normally have to go to London or Toronto for and pay big bucks. Give kids a chance to experience a different kind of concert, for this is concert where you will not be deafened by screaming guitars, you will be able to hear and understand every word sung. The crowd doesn't have to be distracted by fireworks or special effects, Michael's abilities are all that are needed.
Come hear the magic music of the moves and, as they say in Gypsy, let Michael 'entertain you and you'll have a real good time, yes sir. You'll – have – a real – good time!'
We apologize, but this video has failed to load.
The World is a Stage
Back to video