Two Cents Worth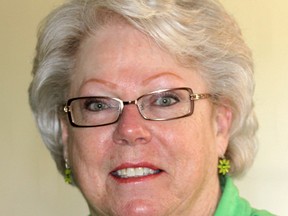 Article content
You really don't need a cell phone on all the time.
Well, maybe if you are a doctor on call and you have five women about to give birth, or there has been a major pile up on the highway. It's good to have one for emergencies when travelling but, as I have said many times, most of us are just not that important.
Was off running the roads with a friend the other day. She forgot her phone and I never turn mine on. It was a lovely, uninterrupted day, which is something that never happens when you have a cell phone. We shopped, had lunch, shopped some more and never had any disruptions to our pleasantly uneventful day.
Upon returning home we were chastised because we could not be reached. I think I commented on how nice that was. As usual, remarks were made about what if an emergency happened. I asked what we did before cell phones?
I agree there are times when a cell phone should be kept on but personally, I do not want to be that accessible. I don't want people calling me when I am out for a day with a friend, to ask me if I would go to this store and that store to pick up stuff for them.
Was away last week and one of the best parts was no electronics – no phones, no TV, no radio, just peace and quiet, well, except for the loons.
Do you tell people when you are going away and then report in when you return? Or is that a thing of the past since the invention of cell phones? I inform my neighbours so they can keep an eye on things and I tell friends because we share our lives. And I always let them know when I am back safe and sound. Seems normal to me.
Recently, I was given a gift of a satin pillow cover. Might have been a joke gift because it says it will help me rest cool and dry, smooth and illuminate my complexion, reduce split ends and maintain my hair style.
So far, I still wake up with my hair standing on end with no style whatsoever. Don't know about the split ends. I still have to turn it several times during the night to find a cool spot and am not sure if the dry refers to perspiration or drooling. Not sure what it means to have your skin illuminated but my face doesn't seem to be brightened or lightened or glowing or any different than usual.
Remember when you woke up with creases on your face from the wrinkles on your pillow case and they were gone in minutes? As you get older those creases are more pronounced and they don't go away near so fast anymore. I thought the smooth part of the pillowcase advertisement meant those would be gone. No such luck. And it hasn't done anything to soften my own natural wrinkles, either.
But the black and white zebra pattern adds quite a splash to my bedroom décor.
We apologize, but this video has failed to load.
Two Cents Worth
Back to video