The World is a Stage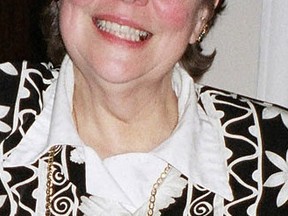 Article content
There are several Christian-based organizations through which you can foster a child in a depressed county, like Samaritans Purse, and Compassion.
These groups do much more than take your money and give it to a poor family so they can buy food to eat. The child also goes to school and church and learn trades, which will get them a job and lift them and often the family out of poverty. The repercussions of helping one child can affect a whole village.
My family uses Compassion and I received a wonderful update from Guatemala, one of the poorest countries in the world. They are there not on an individual child basis but to help whole villages. I was struck by their article on malnutrition.
The residents believe Guatemala to be the birthplace of corn and in many cases that is all they have to eat, which is why they have the malnutrition problems. Only 1 per cent of children graduate from high school, most drop out to farm corn. Imagine, no fruits or vegetables or meat/protein.
When Compassion arrived to help, they realized they would have to educate people on nutrition, for it is not just the immediate hunger that needed to be met. So the children began learning about crop diversity. The children would learn about alternate crops, then actually plant, care for and harvest their crops.
But what to do with the immediate problem of the undernourished children who did not have the strength, energy or brain power to learn?
Well, for those of you who purchased a goat from Compassion or the Samaritans' Purse catalogue in another person's name, instead of giving them a gift, you will be pleased to know what actually happened. The Response team had the funds to purchase a pregnant goat, named Sparkle (cheaper to buy and keep than a cow, yet provides very nutritious milk). A family was hired to care for it and mothers would go to that family's home every day to get milk for their children. Sparkle gave birth to three babies, so this family now has a self-sustaining business.
After six months of getting nothing else added to their diet of corn but the milk, the children went from being severely malnourished to moderately or mildly malnourished. Their hair became its usual dark brown and their blotchy skin disappeared. After only three months, the students' attitudes and performances in school changed. The body and brain had the nutrition it needed to function properly. One boy even won a scholarship!
I was particularly struck by the other problem Compassion was having with these poor families. Junk food. Even in poverty stricken countries there are still corner stores that have candy bars and cheese puffs and that is what the parents were sending their kids to school with for a snack. Is this sounding familiar, here in Canada?
To shock the kids into understanding the difference between processed junk food and healthy food, one nutritionist set the cheese puffs of fire and they watched them disintegrate. She then tried to light a banana, but couldn't. The kids got the point. One boy said, "I learned that everything I eat becomes a part of me. I am not junk, so I do not want any more junk food."
Have you noticed the parallels to Canadian children? Many of our kids are being fed breakfast at school, so they have the energy to learn. I would like to say, check the lunches the kids bring to school and see how many have some type of processed food and junk food in them. However, many of the kids have money and go to the corner store to buy their lunches. Ask the clerk at a corner store what they are buying: an energy drink (like Red Bull) and a chocolate bar. Scary isn't it, especially the energy drinks which have a mixture of caffeine and taurine in them. I had a mini sample can once and my hands shook for several hours. I wonder if any parent ever checks what their kids are buying for lunch? Do you want to know why kids attitudes are bad? Why they are so hyper? Or so exhausted? It is probably what they are eating and what they are not eating.
I wonder if a nutritionists came into our schools and tested the kids, how many would show up as malnourished?
There was a reason our mothers made us eat breakfast before we went to school and took sandwiches, carrots and apples for lunch. Children need the energy from the good food to not only be able to think and learn, but to properly develop their bodies as they grow. As the one lad in Guatemala has already learned, you are what you eat.
We apologize, but this video has failed to load.
The World is a Stage
Back to video