It's all about prevention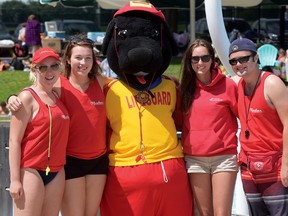 Article content
July 18-26th is National Drowning Prevention Week and mascot Buddy the Lifeguard visited Tillsonburg's Lake Lisgar Water Park to mark this special week.
According to the most recent data, drownings are on the upswing in Ontario. In 2012, there were 178 fatalities, the most water-related fatalities in the province since 2006. There were 845 drownings in Ontario waters between 2008-2012.
The statistics are alarming. Swimming is one of the most common recreational activities in the province (30 per cent), and in 2012, 48 people drowned while swimming.
Drowning remains the third leading cause of accidental death in Canada for people 60 years of age and under, and is second only to automobile injuries as the leading cause of accidental death in Ontario among children under 10 years. The majority of people who drown had no intention of going into the water – their immersion was sudden and unexpected.
"The biggest thing is," said Janet McCurdy, Lifesaving Society provincial area chair for Brant, Norfolk and Oxford, while flipping through the Ontario Drowning Report, and National Drowning Prevention Week material, "more people are drowning."
Lifesaving Society – The Lifeguarding Experts work to reverse that trend. Lifeguards at Lake Lisgar Water Park are doing their part fundraising this summer for the drowning prevention campaign.
Every Monday throughout the summer they are doing Pie-in-the-Face for a lifeguard at 2 p.m. Every Wednesday they Pin-the-Whistle on a lifeguard at 1:30 p.m. And on Fridays they are barbecuing hamburgers for lifesaving from 1-3 p.m.
An annual fundraiser returns tonight only. On Friday, July 24th, from 6-9 p.m., it's a Ride The Slide night. For $5, you ride the slide as many times as you can in three hours, with proceeds going to Drowning Prevention.
It's all about prevention, said McCurdy.
"Everything is prevention. We train our lifeguards for preventable lifeguarding. Preventable lifesaving. Those are the things we focus on. Nothing will ever replace learning to swim, and every child should be a swimmer or have the opportunity to learn to swim. Every child should.
"And that's what is really nice about that day camp (Tillsonburg Community Centre's Children's Summer Program), the $2,000 the Tillsonburg Lioness Club donated, that opens up more spaces for kids."
20th ANNIVERSARY
Lake Lisgar Water Park, which opened in the summer of 1995, is celebrating its 20th anniversary with two '1995-price' swims. The first was last Monday, and the next will be August 20th.
On Saturday, July 25th, the Lake Lisgar Water Park is hosting a Tim Hortons Free Swim from 11 a.m. - 3 p.m., and half-price from 3-6 p.m.
We apologize, but this video has failed to load.
It's all about prevention
Back to video