Alexandra and Tillsonburg District Memorial Hospitals to receive funding from provincial government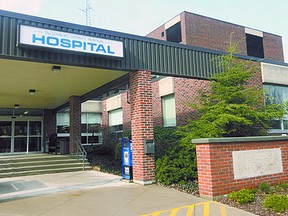 Article content
Several Oxford County hospitals will be getting an injection of funding from the Ontario government as part of a $7 million investment in small and rural hospitals.
Alexandra Hospital in Ingersoll and Tillsonburg District Memorial Hospital (TDMH) are both set to receive a 1% increase to their base operation funding.
While the investment is by no means enormous, CEO of the South West LHIN Michael Barrett said it will give the two Oxford County hospitals a chance to close gaps in their costs.
"Hospitals, like all organizations, are facing increasing pressures on a lot of different fronts – salaries, utilities, labs, drugs – and the 1% will help them to deal with some of those pressures, as well as meeting some of those outcomes of reducing wait times and ensuring staff have their education," he said.
The funding will be applied to 56 small hospitals across the province during the 2015/2016 fiscal year.
And it's more than a one-time gift. The funding will continue to be applied to operation costs each year, Barrett said.
"Once they get this 1% they'll continue to receive this 1% on an ongoing basis."
It may not seem like much, but that funding can go a long way at a smaller hospital with a tight budget.
"It actually really does help us take off the pressure with all of our rising costs across the hospital, even though it's not a huge amount," said Crystal Houze, integrated president and CEO of both Alexandra Hospital and TDMH.
"We get pretty excited when we get 1%."
Houze said the money would go towards the cost of supplies and salaries.
The funding is an exclusive gift for hospitals that are small or in rural areas, Barrett said, because the provincial government has focused more on supporting community health care groups such as the Red Cross, VON, mental health agencies, and community care access centres (CCACs).
"The government's made the conscious decision to fund community organizations with a 5% increase, trying to ensure we're providing more care in the community where patients and clients want to receive their care," he said.
"Hospitals have been held at the current funding level during that same time period, with the exception of small and rural hospitals. So small and rural hospitals are actually getting 1% more than what a larger, community hospital would be getting."
But hospital costs are rising so rapidly that the annual increase – as welcome as it is – won't keep pace with needs at Alexandra and Tillsonburg Hospitals.
"It's better than nothing, but we usually need between 2 and 3% to close that gap completely, with our inflationary increase each year," Houze said.
That's because the cost of materials, lab costs, salaries, and even things like utilities just keep on climbing.
"These hospitals are small organizations that don't necessarily have the size of budget that gives them the flexibility to address some of the increasing pressures that they're getting," Barrett said.
"The government wants to sure that as they face these additional pressures they continue to focus on what's important to patients."
We apologize, but this video has failed to load.
Alexandra and Tillsonburg District Memorial Hospitals to receive funding from provincial government
Back to video